Bristol-headquartered TLT has been named Law Firm of the Year at the Legal Business Awards 2023 – the third year in a row it has topped the main category in a major legal sector awards scheme.
TLT previously landed the Firm of the Year title at The Lawyer Awards in 2021 and also at last year's British Legal Awards.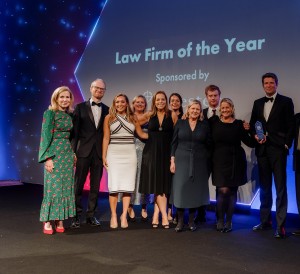 Judges for this year's Legal Business Awards singled out TLT for its record financial results – hailed by Legal Business magazine as 'startling'.
Revenue at the firm, which more than 150 partners and employs around 1,400 people across its six offices, soared by 30% to £144m in 2021/2022 with matching profitability, having achieved double digit growth in the two previous years.
The firm's people-first policies and sustainability programme, which the firm describes as 'progressive' and 'market-leading' respectively, were also behind its win the Legal Business Awards.
The firm's continued with it being jointly named Competition Team of the Year, alongside Linklaters, for helping Compare the Market successfully overturn a £18m fine from the Competition and Markets Authority (CMA).
The case was led by partner Miles Trower, who advised the price comparison site on the investigation and subsequent CAT proceedings.
TLT managing partner John Wood said: "Winning Law Firm of the Year for the third year in a row is a fantastic achievement and an indication that our strategy is working, as we continue to deliver a best-in-class service for our clients.
"It's great to see that our successes are being noticed by the market – our hat-trick of wins at all three of the legal industry's most prestigious awards underscored TLT's reputation as a leading UK firm, recognising our progress in the last few years."
TLT's growth has continued with it announcing last month that it had passed the £150m mark for the first time following a 9% increase in its 2021/22 financial year.
Photo ©KrisHumphreysPhotography