The £14bn Hinkley C nuclear power plant has gained official Government go-ahead, delivering a massive boost to the economy of the West of England but re-opening the debate on the cost of the massive project for consumers.
The two nuclear reactors to be built by French giant EDF Energy next to Hinkley's existing plant on the Somerset coast are the first for a generation and the first in Europe since the Fukushima disaster in Japan in March 2011 raised safety fears worldwide.
EDF, which has already started work at the site, will lead a consortium that includes Chinese investors, who were brought into the deal last week on a visit to China by Chancellor George Osborne.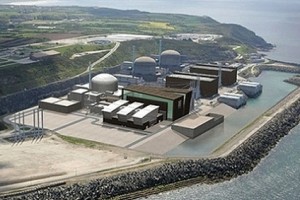 Ministers say the deal will help take the UK towards low-carbon power and lower generating costs in future – leading to lower bills for consumers.
Energy Secretary Edward Davey said: "For the first time, a nuclear station in this country will not have been built with money from the British taxpayer."
He called the deal "competitive" with other large-scale clean energy and gas projects.
"While consumers won't pay anything up front, they'll share directly in any gains made from the project coming in under budget," he added.
Prime Minister David Cameron described it as "an excellent deal for Britain and British consumers".
"This underlines the confidence there is in Britain and makes clear that we are very much open for business," he added.
But critics warn guaranteeing the group a price for electricity at twice the current level will raise bills.
The existing plant at Hinkley currently produces about 1% of the UK's total energy, but that would rise to 7% – enough to power 5m homes – once the expansion is complete in 2023.
EDF operates 15 nuclear reactors in the UK following its £12.5bn pound takeover of British Energy in 2008-2009. It has been locked in talks with the Government for more than a year over the price it will sell Hinkley C's electricity – the so-called strike price.
The government has agreed to pay a fixed fee for every megawatt of power generated per hour of between £90-£93. This will be paid for the next 30 to 40 years regardless of any fluctuations in energy prices.
The current wholesale market price for electricity is around £50.
The expected announcement will not be legally binding and it will be 2014 before EDF makes a final investment decision on the project.
Around 25,000 jobs will be created to construct and run the reactor, according to EDF. Services worth £80m have already been ordered. Around £100m will go into the regional economy every year during the construction phase and £40m a year when it is operating.
EDF Energy chief executive Vincent de Rivaz said the strike price was a "fair and balanced deal for consumers" that would "kick-start the UK nuclear programme and will help rebuild the nation's industrial stamina".
EDF's long-time partner China Genera Nuclear Powerl Group (CGN) in combination with China National Nuclear Corporation (CNNC), is expected to have a 30% to 40% stake in the consortium, with French group Areva taking another 10%.
James Durie, Director of Business West, the organisation that runs Bristol Chamber of Commerce and the Bristol Initiative, said businesses in the region will be a vital part of the supply chain opportunities on offer.
But he said Business West was concerned that government delays had added the cost of the project – and that further problems could lead to power shortages.
"Nuclear power is a critical part of the UK's future energy infrastructure mix and will help ensure our businesses have access to secure sources of energy in the years ahead," he said.
"Energy – ranging from nuclear to renewable technologies – is a major theme now and for the future and the South West is well placed to play a big part. Today's news is a massive economic boost for the South West.
"This is a major step towards ensuring nuclear power continues to play an important role in the UK's future energy security, but it is only one step. We are concerned that the delay and procrastination by successive governments has meant that this crucial project, like so many before it, will end up costing the Exchequer and consumers far more than needed.
"Britain must adopt a comprehensive, long-term strategy to guarantee the security of our energy supplies across a balanced range of sources. Only then will we see both certainty for investors and affordable energy for consumers. Delay and uncertainty will only run the risk of national supply shortage."
Institute of Directors Somerset branch chair Peter Livingstone, who is also a director of Somerset and Dorset law firm Battens, welcomed the go-ahead for Hinkley C.
He said: "The IOD strongly believes that the UK should have a robust and diverse energy strategy. Part of that strategy should be an avoidance of a situation in which the country has all its eggs in one basket – still less a basket which is in the control of other countries – and it therefore makes sense to have nuclear power play its part in making up the nation's overall energy provision.
"Here in Somerset we have had a nuclear power station for many years. Those people who say that Hinkley is not the right place for a nuclear power station appear to overlook the fact that there is already one there. Of course, any use of nuclear energy must be carried out with the highest possible standards of safety at the heart of every aspect of the project. If however one accepts that the country should have some nuclear power capability, it would be unfair to say that that is all very well but it should only happen in someone else's backyard."