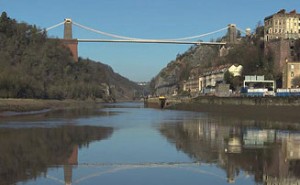 Destination Bristol has secured £500,000 of Government money to boost the city's tourist industry and, it's hoped, provide up to 300 extra jobs over the next three years.
The funding, awarded from the Government's Regional Growth Fund (RGF), is part of a three-year project, 'Growing Tourism Locally' co-ordinated by the national tourist Board, VisitEngland.
It's aimed at inspiring Britons to take more short breaks in destinations such as Bristol, and the total value of investment for Bristol until 2015 is just over £1m. The additional £500k will be provided through equivalent match-funding from the city's tourism management organisation Destination Bristol, the not-for-profit organisation funded by a combination of public and private organisations.
Neighbouring Bath have also been benefitted, scooping their own £500,000's of additional funding from the RGF over the next three years which Bath Tourism Plus, Bath's destination marketing organisation will also match.
Managing director of Destination Bristol, John Hallett, said: "This is a fantastic boost for tourism in Bristol. We have such a great city with a fascinating history, an enviable entertainment culture plus a fantastic shopping offer, not to mention all of the amazing attractions, restaurants and accommodation businesses. This money will enable us to promote Bristol as we've never been able to do before."
The investment is expected to create a number of dedicated marketing campaigns, kick-starting this autumn under the banner 'Start Early, Stay late'.All campaigns are expected to stimulate an increased interest and footfall into the city and its surrounding areas from late 2012.
Business Tourism is also set to receive support from the Regional Growth Fund and, working with VisitEngland, Destination Bristol will be looking to grow the value of international conferences and events.
James Berresford, VisitEngland's chief executive said: "The Regional Growth Fund money is a huge boost for tourism in England. This project enables our public and private sector partners to work together to stimulate tourism and ultimately grow jobs throughout the country with particular emphasis on some local areas.
"This is a great time to launch and we hope that by riding on the crest of a wave of a successful London 2012 Olympic Games we will harness the swell of national pride and inspire Brits to take the home advantage and holiday at home this year and beyond."
The three-year project, 'Growing Tourism Locally', will generate nationally £365m in additional tourism spend and has been funded by £19.8m from the Government's Regional Growth Fund with contributions from VisitEngland and the private sector.