Sixteen students from the recently-opened Bristol Technology and Engineering (BTE) Academy gained a unique, behind-the-scenes glimpse of the world of hi-tech aircraft design and manufacturing when they visited GKN Aerospace's Severnside plant.
The students were taking part in the See Inside Manufacturing initiative aimed at encouraging young people to consider engineering as a career. They were joined on the visit by Filton and Bradley Stoke MP Jack Lopresti.
The youngsters spent the day working with the team manufacturing the innovative all-composite carbon fibre wing spars for the Airbus A350 XWB airliner and the A400M military freighter aircraft.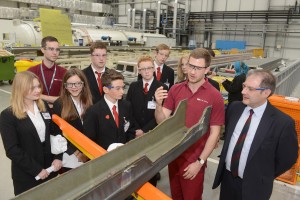 They then saw the state-of-the-art automated assembly facility where the company brings together the complete fixed trailing edge for the wing of the A350 XWB and took part in an exercise, organised by second year apprentices, to make a composite panel from carbon fibre tape.
Steve Colebrook, general manager of GKN Aerospace – Western Approach, said the students had a valuable opportunity to talk to apprentices and engineers only a few years older than themselves about their experiences since joining the company.
"We want to encourage the next generation of talented engineers, designers and apprentices in the UK," he said. "We are facing a significant shortage of technically qualified people with the vital skills our industrial base needs for the future and we need to work with schools, the government and our industry partners to change the perception of today's manufacturing environment amongst young people. Initiatives such as this give us a fantastic opportunity to demonstrate how fulfilling and challenging a career with leading engineering company such as GKN Aerospace can be."
BTE Academy principal Rhian Priest added: "Our students have once again benefited for an invaluable insight into industry. Thanks to the on-going support and involvement of GKN Aerospace, students can directly see where their learning can lead to. Benefiting from an insight into this specialist area of aircraft engineering is invaluable to our students. Our partnership with GKN Aerospace is highly beneficial in inspiring our students and demonstrating theory in action."
GKN employs around 260 at the site.
Bristol Technology and Engineering Academy (BTE Academy) is a new University Technical College (UTC) that opened in September 2013 in Stoke Gifford, just north of Bristol, England. The University of the West of England and City of Bristol College are the lead academic sponsors of the UTC, and Airbus and GKN Aerospace are the lead business sponsors.