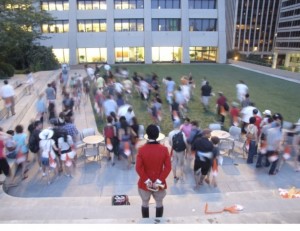 As Bristol prepares for the Christmas party season, city-based game design firm SlingShot is planning to unleash another seasonal tradition onto the city streets: a fox hunt.
Hounded will hit Bristol on Thursday 15 and Friday 16 December and tickets are now on sale. The game sees human foxes do battle with their arch enemy, the hunting hounds, while following a scent trail through the streets of Bristol's old town.
The Bristol outing follows a sell-out run of Hounded in Henry VIII's old hunting ground of Soho in London last month. It comes at the end of a hectic year for its creators, SlingShot, who in addition to organising Igfest 3, have staged their smash hit zombie chase game, 2.8 Hours Later, in Bristol, Leeds and London, where it's been played by over three and a half thousand players.
Like its zombie-based forerunner, Hounded sees groups of players relying on their speed and cunning to outrun and outwit a pack of determined foe.
Players are the foxes, complete with tails, who must follow scent trails laid out across the dense network of streets. By keeping their tails and texting in keywords found at the end of each trail, players amass points. But the pressure is on: huntsmen – complete with dogs – are lurking in the shadows intent on hunting down their quarry by tracking the scent sprayed on players' shoes at the start of the game.
While it's first and foremost a thrilling game of chase, its creators say the game has a political angle, too. "It's a celebration of the fox as an anti-authoritarian icon," says SlingShot's co-founder, Simon Evans. "The fox is a figure who lives on the edge, who rebels against the authority of the patriarchal society, represented here by the huntsman. It's about the outwitting the establishment as much as anything else, which is a particularly relevant theme at the moment," he says.
Hounded is a pervasive game, which combines the latest smartphone technology with the face-to-face engagement and fun of the traditional street game. SlingShot is partnering with BlueVia (www.bluevia.com), whose HashBlue SMS platform allows the players to register, text in their answers and stay in contact with the game's coordinators.
The game was first played earlier this year at the You Are GO! festival in Berlin, and it also featured as part of New York's Come Out and Play summer series, proof of the international appeal of pervasive gaming. SlingShot's own festival, igfest, which takes place in Bristol every year, is the world's biggest such gaming event.
Hounded is taking place at 7pm on Thursday 15 and Friday 16. Tickets are £13 and are available from the website http://slingshoteffect.co.uk/. Source Food Hall & cafe will be selling mulled wine and nibbles at the end of the game.