Bristol bamboo clothing firm Mabboo is to launch what it says is a game-changer in t-shirt production by combining eco-fabric from the world's most-sustainable plant with the least-harmful manufacturing process now available.
The result, according to Mabboo owner and entrepreneur Ed Cheney, is the 'holy grail' of making ethical clothes in a way that does virtually no harm to the environment.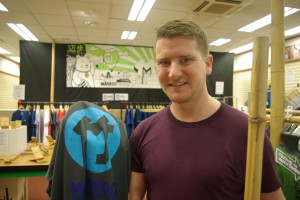 Ed, pictured, believes the technique could revolutionise the sustainable fashion industry and is now seeking funding through crowdfunding platform Kickstarter to start production.
After attending Nottingham University, Ed spent three years living in China where he came across bamboo fabric. Bamboo grows 100% organically and is exceptionally soft – making it ideal for ethical clothing.
Ed was so taken aback by this wonder material he became an early adopter and in 2010 launched Mabboo.
The firm has since gone from strength to strength, from start with a stall at Bristol's Tobacco Factory market to selling at major music festivals and, most recently, its own store in The Galleries shopping mall.
But while the bamboo used in all Mabboo products grows 100% organically, the process of creating bamboo viscose/rayon fabric is not as sustainable.
Never one to turn down a challenge, Ed set about producing an even more sustainable bamboo fabric. After years of research, he discovered bamboo lyocell, which unlike bamboo viscose/rayon, produces no chemical waste or harmful emissions and 99% of the compounds used in the process are recyclable.
Mabboo now plans to launch a new range of t-shirts made from this wonder-fabric Kickstarter.
Ed, who appeared on Sky One's entrepreneurship programme The Angel last year, said: "It's the best way to spread the word about such a unique fabric. The collaborative nature of crowdfunding through Kickstarter mirrors the ethos of Mabboo and the journey we've been on so far.
"The creative and innovative nature of projects launched through Kickstarter could mean the project receives wide appeal and hopefully surpass its funding target."
To watch the Kickstarter video and follow project updates, visit Mabboo.com or go to
https://www.kickstarter.com/projects/171792909/mabboo-bamboo-lyocell-reinventing-sustainable-fash