An unmanned aerial vehicle (UAV) developed by Bristol scientists and capable of safely and accurately assessing dangerous nuclear accident sites has been awarded funding from the Royal Academy of Engineering to turn it into reality.
Dr James MacFarlane and his team at the University of Bristol are joint winner of this year's ERA Foundation Entrepreneurs Award and will receive a £15,000 development fund for the system, along with a £5,000 personal award and mentoring from renowned engineers Professor Richard Brook and Professor Eric Yeatman.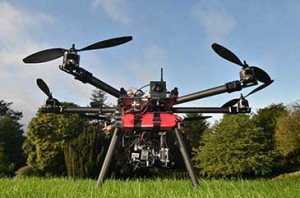 Hazardous nuclear events have the potential to cause huge levels of widespread damage to individuals and the environment. Getting close enough to these incidents to accurately assess the problem can be extremely dangerous.
Following the incident at the Fukushima power plant in Japan in 2011 helicopter pilots assessing the site were exposed to significant amounts of radiation.
The innovative Bristol-designed system will allow radiological hazards to be safely and remotely assessed, providing real-time information on the source, intensity and location of radiation.
Called the Advanced Airborne Radiation Monitoring (AARM), it integrates a UAV with a lightweight gamma spectrometer and other positional sensors. It is light weight and low cost, and able to capture high resolution images.
Field demonstrations of the prototype have already been performed at a uranium mining site in Banat, southwest Romania, and validated against traditional surveying methods, attracting strong support from all areas of the UK Nuclear industry.
Dr Macfarlane said: "The AARM system has had a great reception within the nuclear industry, which reiterates to us that there is a real need for the capability it provides in the nuclear energy sector.
"Our technology is not only timely and novel, but will also be a massive benefit in the day-to-day processes of the nuclear industry. With the support of the Enterprise Hub and my two mentors, I look forward to the deployment of the AARM system in the UK in the very near future."