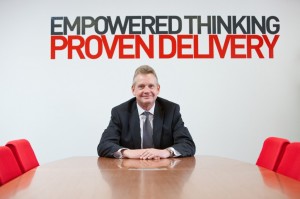 Tucked away above Clifton Down Shopping Centre lies one of Bristol's best-kept business secrets – a privately-owned company with a turnover set to hit a staggering £170m this year. Anne Gorringe meets RSG's chief executive Mike Beesley to find out more about possibly the city's biggest anonymous business.
Squeezed in between the Orange phone shop and Boots the chemist on Whiteladies Road is a small door. Go inside, up the stairs and you can feel the energy.
Just past reception is a huge room filled with people, computers and phones. On the other side stand meeting rooms, with inspiring slogans etched onto impressive glass walls.
It was here that I met Mike Beesley, the straight-talking, friendly and no-nonsense chief executive of RSG, or Resource Solutions Group.
My mission, to discover the secret of the company's success. Plus, let's face it, to find out how Mike achieved the enviable position of CEO and a share-holder of this privately-owned company.
So it was something of a surprise to find that this is, effectively Mike's first ever job. He joined what was then Sanderson Recruitment back in 1980 and liked it so much that, together with business partner Keith Dawe, he bought the company!
Keith remains the major shareholder but, with a house in Clifton and a second holiday home in the Caribbean, life has been good for Mike, who has helped build the company into a West success story.
Over the years, the duo have successfully transformed what was a single recruitment company, bought for what Mike admits was "a few thousand pounds," into a multi-million pound company.
With a head office in Bristol, and a sales office in the City of London, RSG is billed as 'an experienced and established recruitment provider delivering intelligent resourcing solutions to businesses across the UK for over 35 years'.
Yet, many people directly outside the industry don't know much about it. That's because RSG is purely a brand for two internal companies – Sanderson Recruitment and Resource Management – the two names people do know.
"RSG is made up of two directly-owned companies and one or two independent businesses where RSG has a share. When these businesses are combined together the turnover for 2011-2012 will be around £170m," explains Mike.
Sanderson Recruitment itself dates back to 1970 and Resource Management was formed around 14 years ago. Today RSG employs between 170-180 people, with 160 based in Bristol. Most of these work at the Clifton HQ, including Mike's son who has joined the company.
Other teams work directly at client's premises such as Friends Life in Bristol or Royal Sun Alliance's London office The rest are based at RSG's sales office in the City, an important location given that much of their work is linked to the financial services industry.
So how did Mike, who grew up in Devon where during the summers he earned money as a deckchair attendant on the beach, end up as CEO of RSG?
His teenage years were spent in Teignmouth, known as the town that produced the band Muse, who famously sang about how much they hated growing up there.
After a stint at Torquay Technical College, Mike came to UWE in the late 70s to do a business studies course, majoring in the then new subject that has since transformed into what is now known as IT.
"I was one of the first people to start going down that road. But actually IT was not really for me," he says. "I wanted to move into something more people oriented than analysis."
He graduated in 79-80 and, while the employment market then was probably not quite as bad as it is for young people today, it was certainly tough.
Looking back, Mike feels that graduates then had a different attitude to work and were more prepared to fight to make opportunities happen.
Equally, while things are far from easy today, he believes that people may have a tendency to 'give up too early' when battling to find work and maybe even have too high expectations.
"When I came out of UWE I expected that anything that happened to me I would have to make happen."
Mike found going along to sign on at the unemployment office was an experience 'so unpleasant' that he vowed never to repeat it, and went all-out to find a job.
Signing up with a recruitment agency, he applied for computing/programming-type work and was interviewed by his now business partner, Keith, for a job at British Aerospace.
"But, on the basis of talking to me, he actually offered me a job as a trainee recruitment consultant instead with what was then Sanderson Executive Recruitment."
As Mike tells it, this was effectively his first job . . . and one he's still loves.
His working relationship with Keith went well and, within a few years, they "actually bought the business from Mrs Sanderson," as Mike describes it.
They have very different, but complimentary, working styles, Mike says.
"He's the engine room, operational expert and I'm more front of house," adding that Keith is not just his business partner, but his best friend.
It's obviously a successful partnership and one that has helped the business go from strength to strength with an impressive 20% growth over the past two years alone, "the company is actually flying at the moment".
Perhaps, unusually, they buck the trend when looking to employ their own staff, shying away from people with previous experience of the recruitment world.
Instead, they have their own effective 'graduate academy training programme, where staff are taught the company ethos and way of doing things. Mike finds this works best.
So, what exactly does he look for when recruiting for his own company? "You can just tell … a sense of a genuine passion behind the eyes," is how Mike puts it.
Part of the company belief system is a sense of social responsibility. Staff are encouraged to have a day's paid leave each year to do something of value and, when they raise money for charity, the company has a scheme matching pound for pound, money raised up to the first £400.
Away from work, Mike enjoys travelling. While he loves England and believes the British qualities of tolerance are second to none, he also admires the Italians passion for life and enjoys annual skiing trips to Cormayeur as well as family holidays at his home in the Caribbean, of course.
But, he takes his sense of social responsibility seriously and has been pleased to recently take part in an initiative to help those 54,000 South West public service employees now facing redundancy.
Working with the West of England Local Enterprise Partnership (LEP) and another recruitment company, the industry giant Hays, RSG developed a guide and website for those whose jobs are currently under threat.
The new website, launched earlier this month, aims to show people how to identify their transferable skills and explains how employees can effectively showcase these skills in the private sector through CVs and interviews.
It also offers advice on the choices available to them including starting up a business or freelancing.
Looking to the future, RSG are still searching for new challenges, including considering branching out into investing in a company developing a new soft drink.
"Going forward, we probably see ourselves as a closet Dragons' Den – investing in small businesses," says Mike.
One thing's for sure, any new company looking for cash will have to persuade Mike they have enough passion to take it forward.
"Having a great idea is not good enough – you've got to be able to sell it," he says.
• To link to the CHOICES website aimed at helping public sector workers go to www.hays.co.uk/jobs/LEP