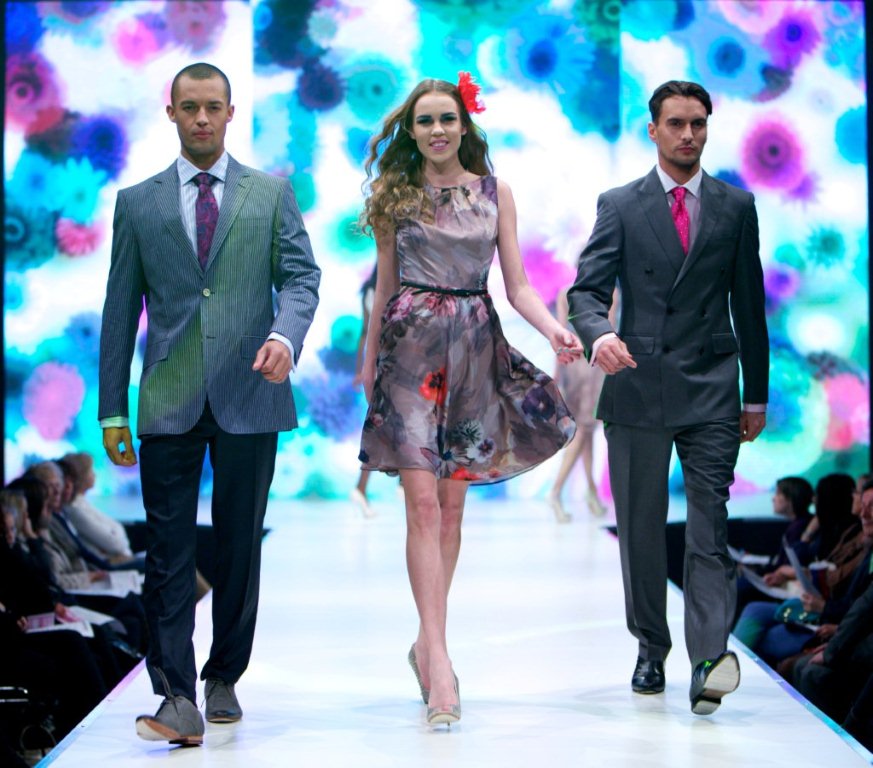 Want to know where to find the best high street men's suit, or how to pick up a Dolce & Gabbana look-a-like design at a fraction of the price?
Bristol Business News feature writer Anne Gorringe did. So when the opportunity came to go along to Bristol Fashion Week at The Mall, Cribbs Causeway, this week, and interview top TV stylist Mark Heyes she jumped at it.
**
One of the highlights of Bristol's fashion calendar, Bristol Fashion Week is held in a specially-constructed marquee at The Mall where it is cramming 18 high-energy catwalk shows into its five days.
This year Mark Heyes, a regular at both London Fashion Week and the Lorraine programme on TV, has once again teamed up with celebrity hairdresser Andrew Barton to co-host the event.
It's Mark's seventh time in Bristol and the pair are well known for their top tips on how to look good on a budget and revealing how to get the best high-street buys.
One of their tips, if you love good shoes, is to check out French Connection. Their designs are actually made by top-label Kurt Geiger so the quality is first class, and at a reasonable price.
But, what I really wanted to know was where I could pick up a Dolce & Gabbana look-a-like scarf at a fraction of the price.
H & M have a very similar print, says Mark, though not similar enough to cause copyright problems.
"From a legal point of view, there have to be six differences," he explains.
So, an expert can tell the difference and a shopper still gets to feel they've got a bargain.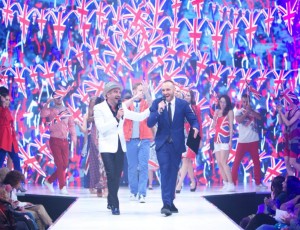 Pictured right: Andrew and Mark on the catwalk
But what about the designer who's worked hard on his creation? How do they stop the big guns from ripping them off?
As a friend of two renowned Scottish designers Christopher Kane, (who has produced his own collections and worked with Versace) and Jonathan Saunders, who's worked with most of the top fashion houses of Europe, Mark doesn't really think it is a problem.
"I've asked how they feel about it and, in all honesty, it's quite flattering," said Mark, while Andrew, whose own prestigious salon is in London's Covent Garden, adds, "It's about getting notoriety."
As Mark points out, the person who opts to buy an original Christopher Kane dress isn't usually the same person who would choose a £25 H&M dress, for example – "It probably isn't the same market."
The situation for less-established designers, however, may be more difficult but, as Mark admits, the fashion industry is tough. Most people trying to break in to it are expected to do a few years' work experience for very little money.
But for shoppers, the good news is there's never been more choice and, while Mark says there's always a place for 'a quick fashion fix' – that bargain buy to update your wardrobe for the season – there are some great 'investment dressing' pieces around in the higher end high street stores.
Mark and Andrew's top tips:-
• For men, some of the sharpest suits around at the moment are in River Island – "very Paul Smith"
• However, the boys predict there's going to be something of a renaissance for double-breasted suits – checkout Austin Reed
• For women: The new, elegant sequin dresses for sale in French Connection are real quality buys at around £190. "Each one takes five days to make – and sequins are sewn on by hand so they really are worth their money," says Mark
• For both: Pastel shades and floral prints are big news for spring and all shoppers can update their look. "For men, it might be just buying a new shirt for work, something in a different colour," adds Andrew.
• This October, The Great Gatsby will be hitting cinema screens and that means that from now on 1920's fashion (with a twist) is going to be big news. Pencil skirts teamed with pastel tops are great for spring. The same skirt with a cardigan is great autumn staple.
• Other big trends – 50's fashion. If you need inspiration, check out Norman Parkinson's photographic exhibition on at M Shed until April 15, or see Bristol's RWA exhibition, Selling Dreams: One Hundred Years of Fashion Photography, running until April 29 at Queen's Road, Clifton.
• The most flattering dress length? – top designers such as Roland Mouret, who specialise in timeless classics, have their dresses finishing just below the knee.
• On the high street, Jigsaw currently has another timeless classic – a replica of the Channel jacket for sale – buy it now, say the boys.
• And for a real top to toe look – don't neglect your hair. "After the winter months and the effects of central heating you need to "spring detox" your hair" – both men and women, says Andrew. Use a good quality product, lock yourself in the bathroom and wash your hair, wrap in a towel and leave the bubbles on for five minutes to let the protein products sink in. Rinse and then do the same with a conditioner. "It'll do wonders for your scalp – remember, we look after the rest of the skin on our body, don't forget the skin on your head," says Andrew.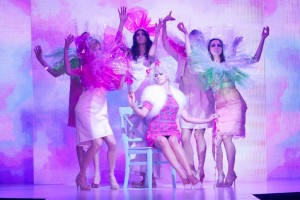 Pastel shades from John Lewis
Tickets for catwalk shows at The Mall's Bristol Fashion Week, which ends this Sunday, cost £8.95 or £13.95 for the front row. Price includes a goody bag filled with plus a free event guide full of offers, competitions and discount vouchers to use in The Mall. Buy online at www.mallcribbs.com
Please note: At each show there will also be a charity collection. Andrew Barton is supporting (and running the London Marathon for) BAAF – The British Association of Adoption and Fostering.
For more fashion news, check out Bath in Fashion week which starts this weekend http://www.bathinfashion.co.uk. Bristol Business News' sister website Bath Business News (www.bath-business.net) is media partner for Bath in Fashion.