Clifton chartered accountancy firm Whyatt Pakeman Partners has presented Bristol Grammar School student Sonny Chiba with an annual scholarship.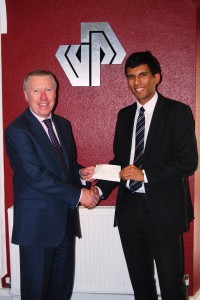 Sonny received the sponsorship package from the firm's partners at a special presentation earlier this month in recognition of his achievements in all aspects of his economics course.
Partner Richard Bunker said: "At Whyatt Pakeman we are always keen to support local schools and help develop and nurture the accountants and businessmen and women of the future.
"We're proud to have developed this sponsorship package with Bristol Grammar School which has a fine tradition of academic achievement. We hope this sponsorship with assist Sonny to achieve his academic goals."
Pictured: Richard Bunker presents Sonny with his scholarship
Jonathan Williams, head of economics at Bristol Grammar School, said the school was delighted to be able to reward the achievements of Sonny with this award.
"He is applying to study Economics and Management at Oxford and stands a very strong chance of getting on the course," he said. "His logic and reasoning of an economic 'hot topic' such as minimum pricing of alcohol or a fat tax is exceptional."