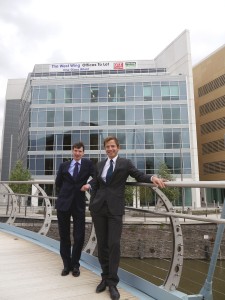 Bristol's Temple Quarter is already reaping benefits from this month's decision to grant it Enterprise Zone status, according to property agents.
Commercial property specialist Simon Price says inquiries for space in award-winning waterfront office building The West Wing off Avon Street have increased since the news was announced.
"There is no doubt that the creation of the Enterprise Zone is big news for potential Bristol occupiers and enquiries for office space within the Zone are definitely up," said Mr Price of Alder King.
The Enterprise Zone covers 70 hectares (173 acres) of land surrounding and to the north and east of Bristol Temple Meads railway station. It brings a number of advantages to businesses by reducing both the amount of planning red tape and the cost of their rates. Very high speed, pervasive digital connectivity will also be a central feature of the Zone
There will be a particular focus on attracting creative industries and technology to make the Zone a hub for creative-minded businesses. Initial estimates suggest that potentially well over 250 businesses could be based there and that its redevelopment will lead to the creation of almost 17,000 jobs over a 25-year period.