The Engine Shed, Bristol's focal point for innovation, has officially opened its latest initiative – public art space Platform 14.
Named after nearby Bristol Temple Meads railway station's 'missing' platform, Platform 14 aims to highlight the diversity of opportunity within the hi- tech, low carbon and creative sectors within the Bristol and Bath city region through art.
Its first exhibition, Connecting… , was officially opened last week by Lord Lieutenant of Bristol Mary Prior.
Put together by UWE MA Curating cohort, Connecting… explores the curious relationship between creativity and technology and the potential for creative development.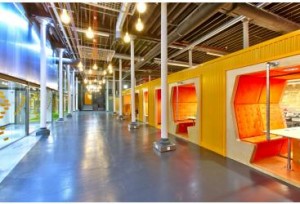 UWE course leader Dr Matthew Partington said: "Despite only beginning the course in January the students have been responsible for everything from the labels and graphic design to liaising with artists and organising transportation of the exhibits.
"They have worked brilliantly together as a new team and have produced an exhibition which not only showcases the talents of the artists whose work is on show but their own considerable talent as curators."
Connecting… features works by Hannah Blight Anderson, Jono Sandilands, Kim Brunner, Arthur Buxton, Olivia Jones, Sarah Jeffs, Florrie James and Nick James.
Director of Engine Shed and SETsquared Nick Sturge said: "Engine Shed's mission is to stimulate economic growth in and around the Temple Quarter Enterprise Zone. Using our public showcase space to engage the population of Bristol and surrounding area, especially young people, and translate the high tech innovation that is happening here to everyday lives, is a crucial part of our mission. Platform 14 is a perfect successor to the highly informative Ambitious City exhibition."
The launch was sponsored by accountants KPMG whose Bristol director Kay Drury said: "We are proud to support Engine Shed and this exciting exhibition, which showcases the vital relationship between technology and creativity. This initiative aims to bring together entrepreneurs, business leaders, academics and students in Bristol and Bath, and encourage us to share our skills and experience with each other. In the long-term, such increased collaboration between the academic and business communities will help to create the conditions needed to foster and boost growth in the tech industry."
Connecting… is open to the public between 8.30am – 5.30pm Monday to Friday until June 6. Entry is free.
Engine Shed is a collaboration between Bristol City Council, the University of Bristol and the West of England Local Enterprise Partnership at the heart of Temple Quarter Enterprise Zone. Its mission is to stimulate long-term economic growth by supporting business, inspiring young people to get involved and to showcase to the public and potential inward investors the exciting opportunities that exist here.