Bristol is in the driving seat for world-class innovation and creativity following the transformation of the Engine Shed at Brunel's original Temple Meads station into a hi-tech enterprise hub, guests at its official opening were told.
The building, once Bristol's gateway to the world, has been transformed into a modern centre to spearhead the city's inward investment drive, create jobs and encourage a new generation of high-growth businesses.
At its official opening on Monday, cities minister Greg Clark praised Bristol and its elected mayor George Ferguson for putting innovation at the heart of its economy and, as a result, making it England's fastest-growing city outside of London.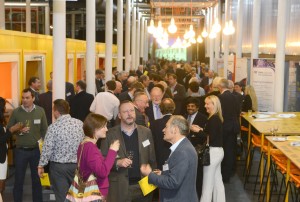 The Grade I listed building, opened in 1841 as one of the world's first railway stations, is now one of the its most connected enterprise hubs, acting as a 'shopfront' for potential investors in the region and a showcase for Bristol's innovation.
The result of a £1.7m upgrade, thanks to a partnership between Bristol City Council, the University of Bristol and the West of England Local Enterprise Partnership (LEP), over the next 15 years the Engine Shed is expected to generate 5,000 high-value jobs in the in the high-tech, creative and low carbon sectors.
The Mayor's support for the project meant it got off the ground with unprecedented speed, moving from initial approval from the council in March to the completion of building work in November.
Mr Clark and Mr Ferguson were joined by Professor Sir Eric Thomas, the Vice-Chancellor of Bristol University, and Engine Shed director Nick Sturge to officially open the building.
Prof Thomas said the Engine Shed would continue Brunel's work as a test bed of ideas.
The building will be managed by Bristol SETsquared – the University of Bristol's double award-winning business incubator – which will take a third of the space to provide premium serviced offices for its early-stage technology businesses.
Engine Shed director Nick Sturge said the move will allow SETsquared to support more businesses than ever before and in turn create new high-value jobs. The Engine Shed concept was the brainchild of Mr Sturge and Watershed media centre director Dick Penny. They came up with the idea of creating a centre that brought the city's innovative and creative businesses and other agencies together under one roof.
Also based there will be the West of England Local Enterprise Partnership (LEP), the Invest in Bristol and Bath growth hub, the new WebStart Bristol internet incubator and DigiCity, operated by the University of Bath Innovation Centre.