UWE Bristol lecturer Martyn Harries has been nominated for an Emmy for his sound work on the BBC Natural History Unit documentary Madagascar. The nomination is shared with the score composer Sarah Class.
The winners will be announced at the Emmy Awards in New York on October 1. If Martyn is successful this will be the second Emmy to add to his growing collection of awards that also includes BAFTA and Royal Television Society awards.
Martyn, pictured, said, "It is fantastic to reach the nomination stages for the Emmy awards as there are hundreds o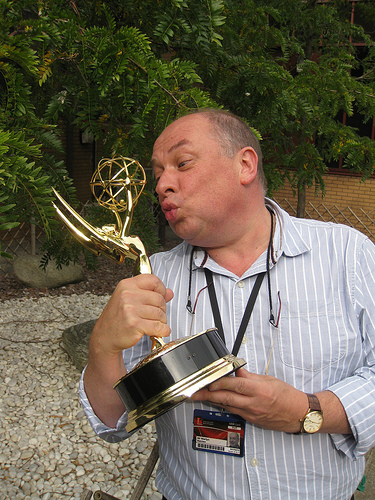 f news and documentary films made every year so you need to be working on productions that are of outstanding quality to even get this far. Production companies will only select well-crafted programmes that showcase the best of their annual output.
"As is the case with all of the BBC NHU films, an enormous team of talented people is involved in creating the final documentary. My part is to ensure that the sound matches up to and enhances the brilliant imagery. The challenge is to create a sense of being at the centre of the action and to make up for the lack of smell and touch. Sound editing and mixing is all about using layers of sounds and music to create an immersive, atmospheric experience.
"Music makes an enormous inroad into generating that sense of place and the skill is in knowing how to blend music with sound effects to create subliminal triggers. In Madagascar many of the animals filmed are very small so the music needed to reflect this by being gentle and soft or sparse."
In one scene in Madagascar a chameleon sticks out its long tongue to catch an insect. The film was slowed down to show an action taking a fraction of a second and to enhance the shot the music was blended with sound effects.
"When the tongue sticks out we might create a whoosh sound this could be a sound recorded in the studio such as a plastic rapier swooshing past a microphone or a heavily-treated sound of a jet engine," added Martyn. "Then when the fly is caught we represent the tongue moving at lightning speed back into the chameleon's mouth by maybe a muffled gunshot sound along with gloopy sounds from a chamois leather.
"For each frame in a film it is quite normal for us to blend two or three tracks of music, six to eight tracks of broad sweep atmosphere sounds and many tracks of effects both in the foreground and the background. It's a complex and time consuming process."
The score for Madagascar was composed by Sarah Class and performed by the BBC National Orchestra of Wales. The sound was mixed at Bristol production house Big Bang Productions. Martyn is nominated jointly for the award with Sarah Class, dubbing editors Paul Cowgill and Max Bygrave and American sound mixer Andy Peterson who added the US commentary. The nomination was made by Animal Planet.
Martyn Harris combines his time as a professional sound engineer with lecturing to students at UWE Bristol.