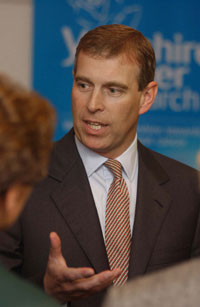 EXCLUSIVE
The Duke of York has called on the spirit of Brunel to inspire the next generation of innovators during an official visit to Bristol.
The Duke toured Bristol University's SETsquared Centre, which helps small develop small hi-tech businesses, and also met young people at Brunel's SS Great Britain, of which he is patron.
Speaking exclusively to Bristol Business News, he said the pioneering attitude of Brunel was vital to meet today's challenges. Engineering should be a profession that young people aspire to "rather than one people look down their noses at," he said.
Young people did not need to think they had to go to university to gain the right skills, he added. Instead, they should be encouraged to use the skills they already have.
Brunel provided the perfect inspiration for a new generation of scientists, engineers, innovators and entrepreneurs, he added, pointing out the interesting parallel that, beside the restored SS Great Britain is the Bloodhound project, which is creating the world's fastest car.
"If Brunel were alive today, would he be more interested in the conservation of the Great Britain or in a superfast car capable of 1,000mph?" said the Duke
"I would like to think he would be fascinated by both – in the fact that one of his inventions is being preserved and that its technology is still being used today, such as its propeller traction. But I think he would also have been fascinated by the thought of a car going that fast.
"After all, at the time the Great Britain was the fastest way to travel at sea. It was pioneering. It was the largest vessel on the sea and it was years ahead of its time. In some ways it was the Concorde of its day, a whole new method of mass transit."
The visit to SETsquared reinforced the city's position as a world leader in the microelectronics industry. The Duke met the brains behind some of the innovative companies which have put the city on the microelectronics map. Bristol has long been a centre for microchip design which in turn has spawned successful IT and telecoms industries in the region.
His Royal Highness met five of the businesses supported by SETsquared, which has helped start-up businesses gain the support and funding they need to become a global player.
The businesses voiced their concern over the funding gap for new and growing firms – an issue the Duke sympathised. However, praising SETsquared, he said such centres could create a "virtuous circle" through which entrepreneurs could build businesses, sell them then use some of the proceeds to re-invest in fledgling companies.
Since 2008 SETsquared has attracted £56m of investment for the ventures at the centre in addition to providing serviced office space, a business support community and on-site technology entrepreneurs.
The Duke's role supporting the Queen as Head of State centres on trade and investment. He also focuses his attention on helping businesses to create prosperity in the UK, enhancing social entrepreneurial activity and helping young people to develop skills for the future – key themes he developed in an exclusive interview with Bristol Business News. He also touched on foreign ownership of British firms, how British industry can take on and beat those in low-cost economies, and why creating a 'virtuous circle' of entrepreneurialism is good for the country. Bristol Business News's full interview with HRH The Duke of York will be published on Friday as part of its weekly e-bulletin. To subscribe, to go www.bristol-business.net.
SETsquared director Nick Sturge said: "The Duke of York had heard about the work SETsquared is doing to support entrepreneurs in hi-tech businesses and was keen to find out more. He clearly understood the challenges faced by businesses at the leading edge of technology and was keen to know what more can be done to take these businesses to the next stage of their development.
"There's a strong undercurrent of feeling at the moment that the world is becoming more aware of Bristol as a technology hub and we feel that the duke's visit will further support this.
"We now support more than 55 companies and have a zero rate of failure, proving that SETsquared has played a significant role in growing the technology cluster in Bristol, specifically in microelectronics."
University of Bristol vice-chancellor professor Eric Thomas added: "Innovation is a much over-used word and so its currency has possibly been devalued. However, in Bristol we see time and again truly innovative ideas become innovative businesses. Bristol's history is packed full with excellent examples of this and it is a safe bet to say that its future will be even more so."
The Duke of York met representatives from Hybrid Logic, which has created software that makes web servers work co-operatively so that if one of them fails another one immediately takes over; Test & Verification Solutions Ltd (TVS) which focuses on software testing, hardware verification and outsourcing for various types of companies; DocCom, which uses enterprise social network technology to help health organisations and their workers communicate easily and more effectively; Gnodal, which has built the largest, fastest, most-efficient networks for high performance data centres; and XMOS, which was co-founded by professor David May and whose revolutionary processors offer the fastest route from idea to product, dramatically reducing costs and time to market.