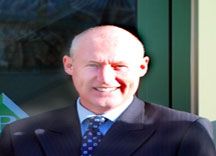 Bristol-based health, safety and environmental consultancy Building Safety Group (BSG) has been appointed by the Duchy of Cornwall to provide its health and safety support.
BSG will be the single point of contact for health and safety issues, carrying out site inspections and delivering training to the private estate.
It will also carry out an audit of workplaces and premises owned and operated by the Duchy of Cornwall throughout the country to help ensure that the estate is operating to the very highest levels of health and safety. A full-range of construction health and safety instruction as well as plant training will also be provided.
BSG managing director Paul Kimpton (pictured) said: "It is a very great honour to be appointed by the Duchy of Cornwall to look after all of its health and safety requirements and provide them with training.
"The Duchy is well known for its very high standards and our professional advisers and trainers will help to ensure that the Duchy has all the information, knowledge and documentation it needs to maintain this reputation for quality."
BSG has more than 750 members across 3,500 workplaces throughout the country.
The Duchy has around 53,408 hectares of land in 23 counties, mostly in the South West.