Bristol's M Shed museum has celebrated the second anniversary of its opening by revealing it has received more than 1.3m visitors over that period – well over twice as many as anticipated.
Since opening in the landmark 1950s transit sheds on Bristol's historic waterfront, M Shed has been longlisted for the prestigious Art Fund Prize and in a few weeks' time will find out if it has been successful in its nomination for the prized Telegraph Family Friendly Museums Award.
When it opened two years ago owners Bristol City Council anticipated a quarter of a million visitors a year.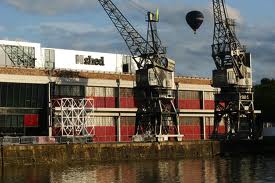 Head of Bristol's Museums, Galleries and Archives, Julie Finch, said: "The public response to M Shed has been fantastic. To have reached over 1.3m visitors in just two years is testament to the quality of the museum and the hard work of staff, volunteers, trustees and sponsors."
Assistant mayor for leisure, tourism, licensing and community safety, Simon Cook, added: "M Shed has given Bristol a massive cultural and economic boost and has given visitors another reason to visit our diverse and vibrant city.
"A varied exhibition programme has helped to bring in visitors from across the region ranging from National Portrait Gallery exhibitions to the recent very popular Chocolate exhibition that told the story of chocolate making in the city."
The museum features 3,000 exhibits, drawn from the world-class collection of the city, telling the many thousands of stories of the people of Bristol, discovered through working with experts and communities across the city, a process that will continue for the life of the museum.
The Chocolate exhibition runs until June 23.