Passengers arriving at Bristol Airport for the inaugural easyJet flight to Reykjavik this week may have been surprised to find a 7ft camel greeting them at the check-in desks.
But Kokoso's appearance was not down to a booking error by the airline's promotions department – he was on hand to promote the launch of flights from Bristol to Marrakech tomorrow.
Both routes have already proved popular with strong advanced bookings, according to easyJet.
The airline expects to carry more than 55,000 passengers on the flights over the next year.
With temperatures in Reykjavik likely to be around minus 2 degrees – a far cry from the weather in Morocco – Kokoso was decked out in a hat and scarf to pose for photos with passengers departing for the Icelandic capital.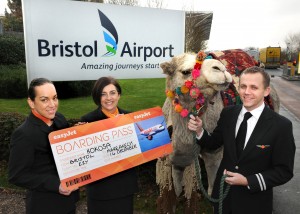 EasyJet commercial manager Ali Gayward said: "These flights offer the South West's only connection to Iceland and schedules service to Marrakech and have already proved exceptionally popular additions to our Bristol network.
"They have both sold well over the Christmas and New Year period for people looking for warmer climates or a glimpse of the Northern lights."
Bristol Airport aviation director Shaun Browne added: "Together, these new flights provide passengers across the South West and South Wales access to an increased range of destinations at very affordable prices without having to travel to airports outside the region.
"The routes will appeal to the business or leisure passenger and offer in-bound visitors the opportunity of either a weekend break or a longer getaway."
Kokoso, from Joseph's Amazing Camels in Chipping Norton, is no stranger to the cameras – or airports. EasyJet hired him to promote its flights from Stansted Airport to Sharm el-Sheikh earlier this year. He has also appeared in Disney movie John Carter, British comedy Nativity! and TV shows such as Top Gear and Location, Location, Location.
* Flights to Marrakech leave Bristol on Tuesdays and Saturdays with fares from £33.9
* Flights to Reykjavik are on Thursdays and Sundays with fares from £31.99
Pictured, from left: easyJet crew Louise Mehrotra and Faye Chambers with Kokosa and first officer Phillip Towns