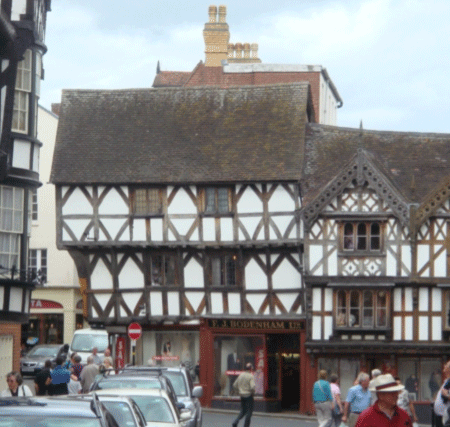 LONG to learn the secrets of a top chef? Travel Editor ANNE GORRINGE heads to the pretty Shropshire town of Ludlow to try a hotel break with a difference….
FOR most people, discovering the delights of a boutique hotel equates with relaxing in style. Finding yourself with an apron on can only mean one thing… your credit card has crashed and you're washing up to pay the bill.
Thankfully, I was taking instruction in the kitchen at Ludlow's Fishmore Hall Hotel by choice. I'd booked a break away with a difference – a stay which included an afternoon shadowing head chef, David Jaram, and a chance to learn some of the secrets of his top creations.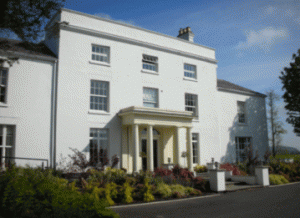 Fishmore Hall Hotel – bought as a derelict building and restored into a Regency-style boutique hotel
OK, in one day he wasn't going to turn me into a Cordon Bleu chef. But he DID help me discover the delights of preparing lamb (a super sharp knife is essential!) and taught me the basic skills to prepare that night's fabulous dinner.
Of course, the best cooks know that you don't get far without top ingredients. So first, it was off to the Shropshire farmer's market where we were able to pick up a wide variety of sausages, chocolate and fruit and veg – all produced within 30 miles of the hotel.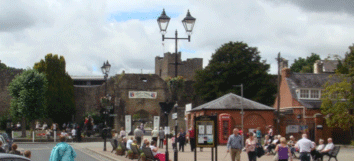 Castle Square, Ludlow – regular street markets are held here
Food markets come to town twice a month. But on other days, antique and collectors, fashion and craft stalls can be found in the market square, while a variety of quirky shops selling anything from Tarot cards to top fashion surround it.
The town is something of an architectural gem, with interesting buildings and, of course, the castle itself, which continues to be a top attraction.
I discovered a vintage fashion shop, where I disappeared while David was choosing veg. Then it was back to the market where I sampled pots of local honey, incredible cheeses, cider, and cake!

The cheese shop in Ludlow… and delicious cakes at one of the stalls in the market.
Back at the hotel, there was time to settle into my room – one of 15 luxurious bedrooms, where relaxation is the key. Not only did my room have a huge bed, it also boasted a pillow menu! That, I LOVED.
Free internet access and luxurious Molton Brown toiletries in the bathroom were an added treat too, not often included in many of the big chain hotels.
I'd also had time for a quick chat with hotel owner Laura Penman who bought the building as a derelict property back in 2006. She loved the location and saw the potential, transforming it in just 22 weeks into a Regency-style boutique hotel which opened its doors in October 2007.
Her determination and drive are impressive. Just as interesting for me is the fact that she was happy to take on such a big commitment at the age of just 27.
One of her key beliefs is to buy locally – as much as possible, from food to fabrics, and support other Shropshire suppliers. In running the business she's build up a trusted team, including head chef, David, who has been with her since the beginning.
It's a blueprint that's obviously worked well as the hotel recently bagged another top AA award. Inspectors gave it three prestigious red stars for outstanding accommodation in September 2011, as well as 3AA rosettes for Forelles in-house restaurant.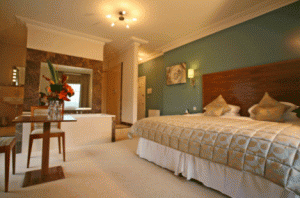 A luxury bedroom in Fishmore Hotel
For me, though, it was time to stop talking and take action. I headed for the kitchen with other guests and prepared to start work. Together with another guest, I was about to learn how to make ham hock and prepare a lamb dish. Here's how we got on….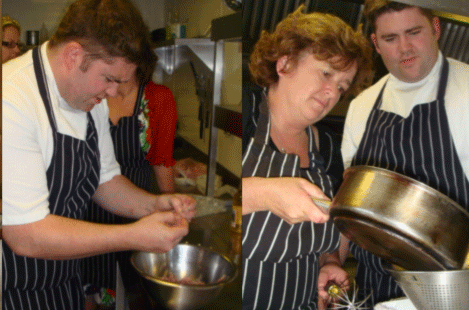 Chef David Jarman shows us first how to shred the ham before my colleague melt strips of gelatine in hot water.. A splash of cider (local, of course) is added before the mixture is pressed into shape with the ham and left to cool.

After an afternoon cooking, it was time to go into Forelles restaurant , which looks out on the beautiful Shropshire hills, to enjoy the meal we'd helped prepare.
Dinner menu
Starters:-
Ham Hock (which we'd learned how to cook!) served with
Scotch Quails Egg,
Summer Broth,
Cider Jelly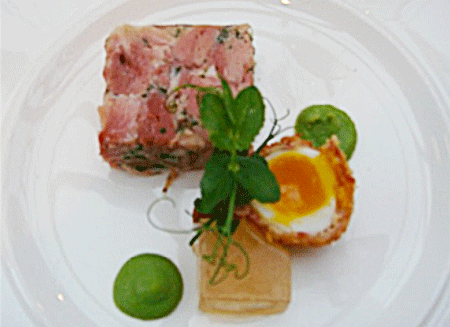 The main course:-
Roast Loin of Lamb Pea's & Mint, Roast Garlic, Anchovy, Sautéed Kidney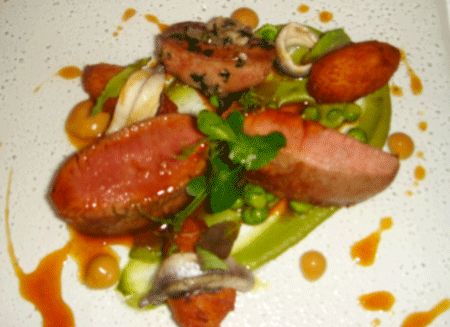 Mastering how to cut the best lamb 'steaks' from a joint was one of the things I learned
Followed by:-
Artisan Cheeses Fig & Almond Cake, Quince Jelly, Homemade Biscuits, Warm Fruit & Nut Bread ….

and a reworking of …"Black Forest Gateaux"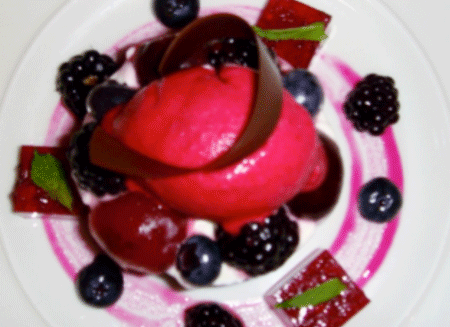 FACTS:-
Anne travelled by train to Ludlow and took a short taxi ride to Fishmore Hall, located just outside town. If you're driving, the hotel is easily accessible from the A49.
Special mid-week dinner bed & breakfast packages for two people costs from £173 for two people in a standard room Sun-Thur or £245 at weekends. In addition to the normal dinner menu, Forelles can also serve both a six course and nine course local tasting menu.
Price of the two-hour teaching session with chef will set you back a further £75 for two people. This includes all ingredients and he regularly runs classes in baking and butchery. Contact the hotel on tel: 01584 875148 for more details.
And, if food really is your passion, time your visit with Ludlow's annual Food and Drink Festival, held each September. Local food produce markets are held on some Thursdays throughout the year – check out the event diary at www.ludlow.org.uk