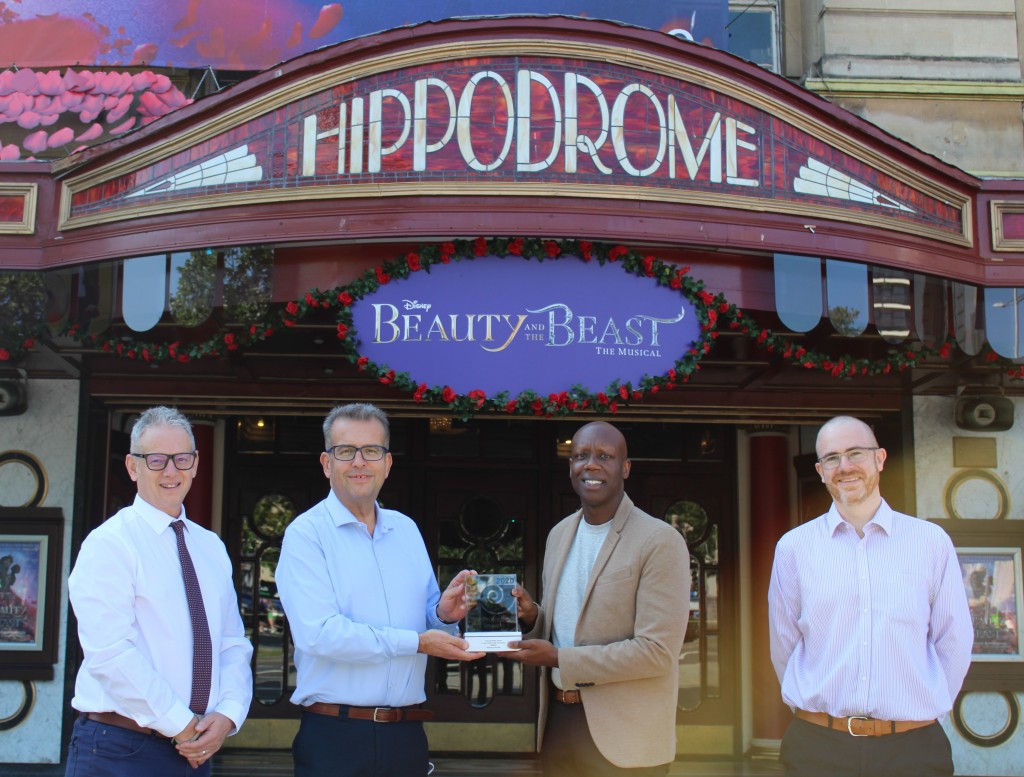 Pictured, from left: Steve Jones and Ben Phillips from The Bristol Hippodrome, Kurtis Reece from National Friendly and Adrian Brown from Southmead Hospital Charity
Bristol-based specialist insurer National Friendly and The Bristol Hippodrome have announced a substantial enlargement of their community support programme along with new ambitious plans to raise funds for a city charity.
The centrepiece is a new 12-month partnership for National Friendly and The Hippodrome's award-winning Matinee Mingle events, which are designed to combat loneliness in the community.
Linked to this, Southmead Hospital Charity, National Friendly's previous charity of the year, will benefit from a range of joint fundraising initiatives to take place in and around The Hippodrome, with a fundraising target of £30,000. The initiatives will support the hospital's leading research into long Covid.
The Bristol Hippodrome launched its Matinee Mingles two years ago in collaboration with charities LinkAge Network and Age UK Bristol after theatre staff noticed that several hundred customers often bought a single senior-rate ticket.
The aim was to bring together theatre lovers aged 60 and above who would have otherwise attended shows alone – so giving them the chance to make new friends and meet like-minded people.
National Friendly, which initially contributed to the scheme to help get it established, will now be its lead sponsor for at least the next 12 months.
Bristol Hippodrome head of marketing & communications Steve Jones said: "We are delighted to be continuing and growing our partnership with National Friendly, who have been an important part of the Bristol community for more than 150 years.
"They are an organisation whose ethos is to help people to prepare for life's contingencies and so the expanded Matinee Mingle represents an important milestone for our two organisations as we strive to give back to the communities which have supported us both."
National Friendly PR & strategic partnerships executive Kurtis Reece said: "Last time we collaborated with Southmead Hospital Charity in 2019 to support their Neonatal Intensive Care Unit (NICU), we raised £26,500. So a target this year to raise £30,000 seems both realistic and achievable."
Fundraising competitions will take place during this year's pantomime season and will be publicised via Southmead Hospital Charity's website and the Hippodrome's 150,000-plus social media followers.
Southmead Hospital Charity's community & events manager Adrian Brown said donations from the local community – whether groups, individuals or dedicated businesses like National Friendly – sat at the very heart of its fundraising.
"The money raised will be used to support vital research into the impact of long-Covid, the symptoms of which can be wide-ranging, long-lasting, and life-changing," he said.
"Our researchers are working with the first group of Covid-19 patients involved in a study, which means their findings are particularly vital for understanding the long-term effects of this virus.
"National Friendly has already raised an incredible amount and we are so grateful for the support and care that the whole team at National Friendly continue to show the staff and patients here at Southmead Hospital."
Established in 1868, National Friendly specialises in private medical insurance, guaranteed life assurance, assisted living insurance, savings and investments.
It has no shareholders and exists to serve the best interests of its 33,400 members. Its head office is on Bristol's Queen Square.
Matinee Mingle are free to attend for those aged 60 and above and take place an hour before selected mid-week matinee performances in The Hippodrome's Piano Bar.
Members need to buy their ticket for the show they wish to see by calling 0844 871 7615* or visiting www.atgtickets.com/bristol and then book their space.
Email rowandodemont@theambassadors.com for available Mingle dates – maximum 20 people per event.