Gloucestershire County Cricket Club has scaled back its plans for redevelopment of the County Ground in Bihsopston, Bristol.
Planning permission to expand the ground was secured last year but the club has decided that for the foreseeable future it will not build stands adjacent to Kennington Avenue, thus reducing capacity from around 20,000 to 17,500 – of which some 7,500 will be permanent.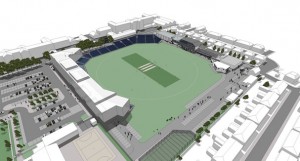 It has also reached an agreement with developers Linden Homes that will see proposed accommodation for 350 students replaced by a range of 1 and 2 bedroom apartments that will also have underground parking – a cause for concern among residents during local consultations about the plans.
Cricket club chief executive Tom Richard said: "Redeveloping the ground will secure our future on the current site, and enable us to better compete for major matches. We were pleased with the response to our public consultation where many people said they preferred the new plans to those we previously had approved."
Nigel Palmer, managing director of Linden Homes Western, added that he believed the final revised design is sympathetic to the surrounding area "and will deliver much needed housing in the area".
The County Ground, which has the second-largest playing area in England of any professional cricket ground, has hosted lucrative international matches every year for the past 10 years, most recently a sell-out Twenty20 match against Sri Lanka.