Bristol-based specialist energy investment company Thrive Renewables has become the latest firm in the city to be certified as a B Corporation, proving its commitment to people and planet over profit.
B Corp businesses must meet the highest standards of verified social and environmental performance, public transparency and legal accountability while aspiring to use the power of markets to solve social and environmental problems. 

Thrive was assessed by B Lab, the not-for-profit behind the B Corp movement, and met rigorous social and environmental standards. It scored particularly well in the environmental and governance criteria.
Thrive Renewables was one of the UK's first mission-driven businesses when it founded 26 years ago in Bristol by ethical bank Triodos.
Formerly known as Triodos Renewables, it has been fully independent of Triodos since 216, although it is based at Triodos' Bristol city centre HQ and the bank – itself a B Corp – retains a major shareholding.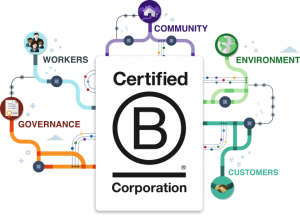 Thrive's mission remains to help people power the UK's transition to clean energy, with the ultimate aim of reducing carbon dioxide pollution to avoid dangerous climate change.
It offers opportunities for individuals, foundations and funds to invest in clean energy projects that deliver financial, environmental and social rewards.
It has long been committed to purpose beyond profit and now, with the support of its 5,000-plus shareholders, has embedded this commitment in its company articles.
As well as creating value for shareholders like other businesses, it prioritises the interests of all stakeholders, from the towns and villages that host clean energy projects to the wildlife which frequents them.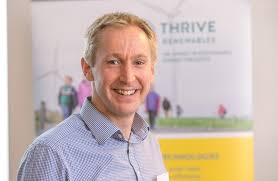 Thrive Renewables managing director Matthew Clayton, pictured, said: "Bristol is our home and its fantastic to work in a city of businesses, communities and individuals committed to addressing the climate emergency.
"Thrive Renewables has been here, working as a force for good for over a quarter of a century. During that time our vision, of a clean, smart energy system driven by the investment of many, has underpinned every decision we make.
"From funding one of the UK's first wind farms in the 1990s, we have grown into a £93m business with 16 wind, hydro and heat projects in our portfolio and new battery storage, wind and geothermal electricity generation projects in development.
"Additionally, we've invested in pioneering technologies such as tidal, and developed innovative deal structures to widen ownership of renewable energy projects. Collectively, our projects prevented more than 75,000 tonnes of CO2 emissions in 2019.
"We feel it is particularly important for us as a mission-based business to undergo rigorous external assessment of our performance on governance, workers' rights, how we treat our customers and the wider community and, of course, the environment.
"We are pleased to have scored well in all those areas and are working towards further improvements."
There are now 14 B Corp businesses in Bristol ranging from PR firms Greenhouse and Wild West to ethical tea brand Pukka Herbs and financial planning firm Paradigm Norton. The Bristol/Bath region is now second only to London for accreditation.
Co-chairs of the Bristol and Bath B Local, Steven Fuller and Polly Grinnell, said: "We're delighted to welcome Thrive Renewables as the latest B Corporation. Thrive has been at the forefront of renewable energy investing for many years now.
"It's brilliant to have such a powerful example of business as a force for good in the region."
He said the size of the B Corp local group in Bristol and Bath businesses was "testament to the belief that businesses in the area can make a real difference to the lives of local people and the net zero carbon ambition".
The B Corp UK community has more than 460 companies, including The Guardian, innocent, Patagonia, The Body Shop and organic food pioneers Abel & Cole.
The B Corp certification addresses the entirety of a business' operations and covers five key impact areas – governance, workers, community, environment and customers.
The certification process is rigorous, with applicants required to reach a benchmark score of more than 80 while providing evidence of socially and environmentally responsible practices relating to energy supplies, waste and water use, worker compensation, diversity and corporate transparency.
To complete the certification, the company will legally embed their commitment to purpose beyond profit in their company articles.