Continued growth in commercial aerospace, including at its Bristol bases, offset a decline in work on military aircraft projects last year at engineering giant GKN.
The group, which produces wing sections at Filton and Avonmouth, today reported a 15% fall in annual pre-tax profits to £484m on sales up 10% at £7.1bn.
It said commercial aircraft production should continue to grow this year while military demand was forecast to decline.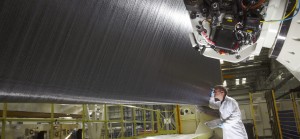 "GKN Aerospace's 2014 sales are expected to be slightly higher than the prior year, due to our presence on new commercial programmes and despite lower military sales," it said.
GKN Aerospace's Bristol sites represent the centre of the company's international wing structures business. The Filton operation was acquired from Airbus in 2008. It employs around 1,500 at the site producing sections for wings mainly for Airbus's existing models which were designed by Airbus engineers on another part of the giant Filton site.
GKN's Bristol operations design, manufacture and assemble complex wing structures for aircraft such as French group Dassault's new Falcon 5X super mid-sized business jet, Lockheed Martin of the US's F-35 Lightning II Joint Strike Fighter and a range of Airbus aircraft including the A330 and A320 aircraft, the A380 superjumbo, the A400M military transporter and the pioneering A350XWB for which GKN makes parts for its innovative composite wings at Avonmouth.