Bristol cultural marketing consultancy Coconut Chilli Digital has launched a new website for Bell's Diner, the city's best-known fine dining restaurant.
The site allows diners to book online and showcases the cutting-edge food on offer at the long-standing Montpelier eaterie.
Launched as part of a new strategy to engage with customers more online and to bring more business diners to the restaurant, it also features exclusive offers as part of the Bell's Supper Club loyalty scheme.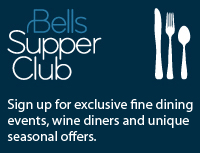 The site was designed by Bishopston-based Thirteen Design with development conducted in Romania as part of a cost-effective international collaboration between three agencies. It forms part of the first phase of a rebrand for the long-established restaurant.
Bell's Diner chef/patron Chris Wicks said: "The new website really gives a feel for the Bell's Diner experience well before the customer has set foot inside the door."
Chris's modern and playful approach to food is reflected in the flexible new branding. The distinctive hand-drawn logotype is combined with an eclectic suite of quirky graphics of the restaurant's tools of its trade: cutlery, fish, meat and fresh produce.
Thirteen Design lead designer and owner Danny Jenkins said: "I wanted to create a brand that would really communicate what makes Bells tick – the incredible quality and creativity in the food; the delightful mix of ingredients; the surprises and the fun – and Bell's enviable legacy."
The look and feel of the new brand will be rolled out across the restaurant interior, exterior and printed literature over the coming months.
Coconut Chilli Digital, also based in the culturally diverse and vibrant business district of Stokes Croft, is a digital marketing and multicultural events consultancy specialising in food, leisure and culture. Clients include Bristol Legacy Commission, African and Caribbean Chamber of Commerce & Enterprise (ACCCE), Berwick Lodge and Lakota nightclub.
Bell's Diner is open for lunch Tuesday to Friday 12.00 to 2.00pm and dinner: Monday to Saturday 7.00pm to 9.30pm. To reserve a table please call 0117 924 0357.
For details of exclusive offers and to sign up for Bell's Supper Club to receive special business promotions visit http://www.bellsdiner.com