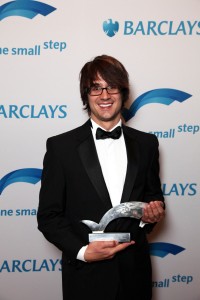 Charles Francis has won £50,000 to develop his Bristol-based new generation ice cream parlour offering hand churned ice cream creations from a seemingly limitless combination of flavours and ingredients.
He has been awarded the money along with free support and advice by Barclays as one of nine regional winners in the bank's Take One Small Step competition.
Charles, whose business is called Lick Me I'm Delicious, said: "I come from a family of entrepreneurs and grew up on an ice cream farm and have always wanted to run my own business.
"I was told about the competition by a Barclays Business manager. I can't wait to use the money to set up Bristol's first liquid nitrogen ice cream creation parlour!"
More than 5,000 businesses registered to take part in the competition following its launch in March. They were then whittled down to a final shortlist of 27 inspired enterprise ideas across nine UK regions by a regional panel of three judges. The entries, brought to life by videos at www.takeonesmallstep.co.uk, captured the imagination of the public, who were canvassed to vote for their favourite online.
Lingerie tycoon Michelle Mone, one of the UK's best-known and most successful businesswomen and the competition's biggest supporter, said: "The Take One Small Step competition is a fantastic platform for entrepreneurs to showcase their business ideas and I am delighted to have been involved. Huge congratulations must go to Charles for winning in the South West. The competition has found a fantastic business in Lick Me I'm Delicious, which I hope will use the £50,000 to go on and fulfil its true potential.
"Winning the competition is the first of many steps to success and it is now that the hard work really begins for these businesses. But I am confident the nine winners all have the drive and passion to succeed."