Bristol's vibrant food scene took a major leap forward today when the first occupiers of its innovative CARGO scheme started fitting out their units
The Harbourside hub at Wapping Wharf is the first retail development in the city to be built using converted shipping containers.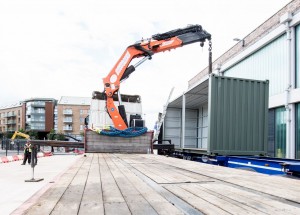 CARGO 1 includes 18 converted shipping containers, which started arriving this week and are now being fitted out ahead of the first units opening next month.
This will be followed later this autumn by CARGO 2, a similar hub adjacent to the first and including 28 containers.
As the tenants assembled to watch the first containers arrive at Wapping Wharf this week, they spoke of the hub's role in enhancing Bristol's burgeoning food scene.
Pete Snowman of Bristol Cider Shop, which is relocating from its Christmas Steps outlet into two of the containers, said: "We're really excited to be moving into CARGO.
"It's going to be such a great food and drink community. We love matching amazing food with amazing cider and we're all about collaboration so we can't wait to meet our new neighbours.
"Bristol is really going from strength to strength in terms of food and drink at the moment and this will bring something very exciting to the city."
Many of the units, which are set across two levels, have glass frontages, views out onto the waterfront and outside terraces.
CARGO will be home to a host of independent retailers including: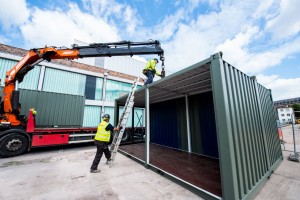 -          Bristol Cider Shop – The established cider shop complete with cider tastings.
-          Woky Ko – A 40-seater Asian restaurant and takeaway from MasterChef finalist Larkin Cen of Cen at Celtic Manor, opening this September.
-          Chicken Shed – a 'finger-lickin' dine-in, dine-out' chicken shop, opening in September, created by the team behind food festival Eat Drink Bristol Fashion, co-founded by Michelin-starred Bristol chef Josh Eggleton of The Pony & Trap, Amelia Twine, Nick Roberts and organic farmer Luke Hasell.
-          BOX-E – Modern British seasonal cooking by award-winning chef Elliott Lidstone featuring a four-seat kitchen table for those who want to experience the buzz of the kitchen in full.
-          PIGSTY – The first PIGSTY restaurant by the three brothers behind The Jolly Hog and Harlequins player Will Collier.
-          Lovett Pies – artisan gourmet pies from the West Country from Lovett Pies' first shop in Bristol.
-          Corks of Cotham – Local wine, spirits and beer merchant opening its third site at CARGO. It will be the first Corks to offer a bar for customers.
-          The Mighty Quinns Flower Emporium – Independent florist, stylist and event specialist. Opening its first retail unit at CARGO.
-          Shambarber – Famed Stoke Croft barbershop will be opening its second venue, offering styling for all.
Retailers already open along Gaol Ferry Steps – the new pedestrian route through Wapping Wharf, connecting the city centre to South Bristol – include Mokoko, Better Food and Wild Beer Co, with Pizzarova trading from a pop-up crate. Little Victories and Bertha's Pizza will also be opening soon.
Stuart Hatton, director at Umberslade, the developer of CARGO, said: "It is hugely exciting to be involved in bringing a new retail concept to Bristol with the arrival of CARGO. This is a first for the city and will bring something unique to its vibrant independent retail scene. We are thrilled that Wapping Wharf has attracted such an eclectic mix of food and drink venues, ranging from pop-ups to cuisine from some of Britain's top chefs."
Josh Eggleton, co-founder of Eat Drink Bristol Fashion, said: "CARGO is a great development which will make this part of the city a real destination for people who love eating out. The emphasis is on Bristol grassroots businesses and we're proud to bring Chicken Shed to add to the other independents opening here. Our focus will be on creating food that is delicious and sourced from ethical farms which treat their chickens well. We'll also have a roof terrace wrapping around our containers which will be the place to watch the world go by with a beer and some chicken wings."
Larkin Cen, a former employment lawyer at Bristol-headquartered law firm TLT, said: "CARGO presented the perfect opportunity to be part of a hugely exciting new food community in Bristol. I live in the city and have been waiting for the right location and moment to open an Asian-flavours restaurant that provides a casual dining experience while staying true to my style of cooking. I'm excited about the super skilled team we are building to take well-loved dishes and add in my own ideas to make them even more exciting for people to try."
Elliott Lidstone said: "It's incredibly exciting to have the containers arriving on site after months of planning. We're desperate to get started on transforming our bit of metal box into something special, and I can't wait to get into my own kitchen and start cooking. CARGO's already got a strong sense of community about it and it's great to be able to contribute to Bristol's exploding food scene."
Rachel Higgens of Corks of Cotham said: "It is with much excitement that Corks of Bristol will be opening their third site at the innovative CARGO within the fabulous new Wapping Wharf development. With a focussed range of wine, spirits and local beers for retail, it is also the first Corks to offer a bar for customers to drop in and enjoy a glass or two from an ever changing, intriguing wine list. With tasting events and private hire also available this is truly exciting times."
Olly Kohn from Jolly Hog said: "My two brothers and I have always wanted to have a stronger presence in our home town. Opening up our first restaurant is a real testament to the quality of our products and all the hard work that has been put in by everyone at The Jolly Hog over the past eight years."
Phil Roseblade from Lovett Pies, said: "Lovett Pies are really looking forward to opening our first ever shop in Bristol and working with the CARGO team on such an exciting project. Coming from a street-food background we'll be keeping the same ethos in our shop. Keeping it simple, affordable and tasty using fresh local ingredients."
Pictured, above: The converted shipping containers are lifted into place. Below, top, From left: Hayley Wright of the Mighty Quinn, Phil Roseblade of Lovett Pies, Pete Snowman of Bristol Cider Shop, Dominic Harman of Corks of Cotham, Louis Arron of Umberslade, Rachael Higgens of Corks of Cotham, Luke Hasell, Josh Eggleton and Amelia Twine of Eat Drink Bristol Fashion, Larkin Cen of Woky Ko and Max Kohn of Jolly Hog. Below, bottom: Amelia Twine, Hayley Wright, Luke Hasell, Phil Roseblade, Larkin Cen, Dominic Harman, Pete Snowman, Max Kohn, Rachael Higgens and Josh Eggleton. All photos by Jon Craig @JonCraig.co.uk