British Retail Consortium director general Stephen Robertson is to join Business West as chairman next month. The business support and advice organisation – which runs Bristol Chamber of Commerce – has also appointed two new directors.
Stephen, pictured, who is also non-executive director of Bristol-based FTSE-100 financial services firm Hargreaves Lansdown and retail chain Timpson, replaces Nicky Alberry, who stands down as chairman after four years but remains on the board through her role as vice-chair of the Swindon and Wiltshire LEP.
Stephen will step down from his role at British Retail Consortium at the end of this month.
Business West managing director Phil Smith said: "Under Nicky Alberry's leadership, Business West has become one of the most influential and respected business organisations in the UK.
"I am pleased that Nicky remains on the board enabling Business West to continue to benefit from her knowledge and exp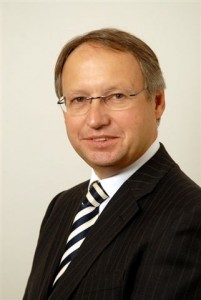 erience.
"I am now delighted to welcome Stephen Robertson who, with a career spanning 14 years on the boards of major UK retailers, brings with him a particularly impressive wealth of business knowledge. I have no doubt that Business West will benefit from his vast experience of marketing and communications – he is a former chairman and now Fellow of the Marketing Society.
"Through his experience with the British Retail Consortium, Stephen is perfectly placed to advise Business West on our membership and representative work, and his track record of dealing with central Government should assist Business West and our partners in achieving our strategic aims."
Stephen Robertson said: "The influence of Business West is far reaching and I firmly believe in the importance of the leadership, representation and business support role that it plays at local, regional and national level.
"The recent Heseltine review into UK Competitiveness, detailing the building of a business support infrastructure based around chambers of commerce, is both exciting and challenging for Business West. As one of the country's largest chambers of commerce, it closely reflects the review team's new vision for business support.
"I was impressed that Business West's uniqueness was recognised in the fact that it was the only chamber to be mentioned in detail in the associated report on Chambers of Commerce International Comparisons. I look forward to a positive engagement with government ministers and officials to further enhance and strengthen Business West's role."
Steve West, vice chancellor of UWE Bristol, who will also become the next president of Bristol Chamber of Commerce & Initiative, and Mike Godfrey, an engineer with experience with General Motors and Honda in Swindon, join the Business West board as directors.
Mr Smith said: "The calibre of these appointments is hugely impressive, demonstrating the business community's recognition of the importance of the leadership and business support role that Business West plays.
"I believe that it is vitally important to attract business people from a wide range of backgrounds to take up positions on our boards. Reflecting the rich diversity of our members and clients at board level will help us to better understand the needs of the businesses we serve.
"Our board of directors is made up of unpaid volunteers, giving freely of their time and business expertise and we greatly value their help in the development of Business West."
The new non-executive directors will join the existing directors: Terence Mordaunt- chairman of Bristol Port Company; Peter Rilett – chairman of North Bristol Hospital Trust; Colin Skellett – chairman of Wessex Water and of the West of England LEP; Alan Fletcher -GWE Holdings; Nicky Alberry – vice chair of Swindon and Wiltshire LEP; Philip Marshall -Carter Jonas Surveyors and chairman of the Initiative in Bath & North East Somerset; and Diane Savory – chair of Gloucestershire LEP.