Business in the Community, the business-led membership organisation dedicated to responsible business, has recognised Bristol-headquartered national law firm Burges Salmon for its efforts in working towards gender equality.
The firm has been included in the latest Times Top 50 Employers for Women, the UK's most highly profiled and well-established listing of employers striving for gender equality in the workplace, which is run by Business in the Community (BITC).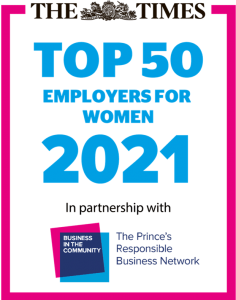 For more than a decade, the incredibly competitive process has identified companies that make gender equality part of their business strategy and are trying to bring it to life at all levels of the organisation.
The list assesses applicants on a range of areas, including their approach to recruitment, family-friendly policies and how they have championed gender equality in the context of the pandemic.
Burges Salmon employs more than 800 people in its Bristol HQ and London and Edinburgh offices.
Managing partner Roger Bull described the firm's recognition in the 2021 The Times Top 50 Employers for Women as a great achievement, particularly given the level of competition this year.
"Diversity and inclusion are of paramount importance to our firm-wide strategy and in 2020 we established our Gender Action Plan which was developed following consultation with our people and is being driven by our senior leadership team," he said.
"This underpins our commitment to ensuring our female colleagues can see demonstrable evidence of a clear route to senior roles within the business, equality in terms of pay and recognition, and a strong support network within the firm to help facilitate this."
Business in the Community gender equality director Charlotte Woodworth added: "Covid-19 has shone a light on how far we have to go on gender equality: by having to pick up things like the bulk of extra caring responsibilities, women have been disproportionately affected by lockdown.
"We congratulate the many employers who have maintained their efforts towards gender equality at this time, often introducing innovative policies to support their workforce during this period.
"This year's application process for The Times Top 50 Employers for Women was the most competitive one we have seen in five years.
"Employers like Burges Salmon haven't forgotten women at work and they are committed to making gender inequality a thing of the past."