Bristol's standing as a hub for the hi-tech, creative and advanced engineering sectors received some welcome boosts in this week's Budget.
There was help for businesses moving to the city's Temple Quarter Enterprise Zone, its filmmakers through increased tax breaks, its growing cyber security industry through investment and its manufacturers and tech firms with help for those investing in research and development.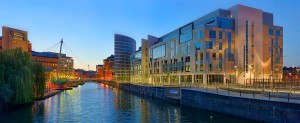 There was also some cheer for its cider producers – and drinkers – with a freeze in duty.
Firms moving to the Enterprise Zone, viewed as one of the most successful in the country, will receive rate discounts for five years, with the offer extending until March 2018.
Local growth minister Kris Hopkins said: "Bristol's Enterprise Zone offers a vibrant and exciting setting for creative businesses looking to relocate.
"The Budget announcement will boost this further, offering these companies significant business rate discounts that could help them as they set up in the city."
The Enterprise Zone is on 173 acres (70 hectares) of land surrounding Bristol Temple Meads Station. It could create almost 17,000 new jobs over the next 25 years, particularly in Bristol's burgeoning creative sector.
Mayor of Bristol George Ferguson said: "Enterprise Zones are playing a vital role in securing economic growth around the country. Here in Bristol we are already seeing jobs growth as new companies move into the Temple Quarter Enterprise Zone taking advantage of business rate discounts. The news that these financial incentives will be available until 2018 is very welcome and will help us to drive yet further investment to the zone."
Bristol Enterprise Zone is one of the largest urban regeneration projects in the UK and home to one of the country's first speculative office developments outside London since the end of the recession – Two Glass Wharf by Salmon Harvester. It has established itself as a hub for flourishing creative, digital and green industries and will also be home to the city's long-awaited arena and mixed-development.
Filmmakers were cheered by an increased rate of relief for larger budget movies. The rate of tax relief for films with a qualifying expenditure of £20m-plus will be raised. From April, all films will receive 25% of the first £20m of qualifying UK expenditure, with any excess qualifying UK expenditure still receiving a 20% tax credit.
This means that producers of larger budget films will receive an increase of 5% on the first £20m. The existing 25% tax relief on lower budget films, high-end TV and non-film animation productions, such as those which tend to be made in Bristol, remains unchanged.
In addition, the minimum UK expenditure requirement will also be reduced from 25% to 10%. This will help independent production companies by encouraging minority co-productions on which the UK spend is less than 25%.
British Film Commission chairman and film and television producer Iain Smith said of the film industry tax changes: "The British film industry continues to demonstrate its value both in terms of job creation, international investment and creative and technical expertise, as demonstrated by British successes as this year's Academy Awards and BAFTAs.
"We are delighted by this further recognition of the value of the creative industries to the British Government."
Bristol is one of the UK's leading centres for cyber and information security – an industry that is becoming more vital to the UK economy as more public services go online along with greater amounts of secure data as well as the electronic transfer of billions of pounds.
The University of Bristol's Security Centre is an academic centre of excellence in cyber security research and one of eight set up in collaboration between EPSRC and GCHQ, the Government's listening centre.
The centre aims to support GCHQ's cyber defence mission, boost research to keep up pace with technological change and drive up the level of innovation.
Josephine Bush, tax partner at accountants E&Y's Bristol office, said: "There was plenty of good news in the Budget for the cyber security sector which will all help to advance cyber security skills in the UK and address the IT skills gap.
"A lack of skilled talent is a global issue within the cyber security sector but it is particularly acute in the UK, where government and companies are fiercely competing to recruit the brightest talent to their teams from a very small pool.
"Over the past decade, our ability to service both the national and international needs of the IT industry, and particularly the cyber security industry, has declined. Therefore, this additional investment provides a real opportunity for the UK to re-establish itself at the forefront of the industry, and address head-on the many risks and the growth potential which arise from the new and emerging digital markets in which we now operate.
"Furthermore, the investment should see a step change in how UK businesses recruit much needed cyber security resources and people, moving away from the historical models of importing international expertise, to finding a balance which centres more on an export based industry, with the UK at the helm."