The West's cider industry cheered the Chancellor's decision not to raise duty on the drink in this year's Budget along with his decision to scrap the duty escalator which aims to automatically increase the tax on alcohol.
National Association of Cider Makers (NACM) chair Paul Bartlett said: "We are very happy to toast George Osborne this evening with a delicious glass of cider.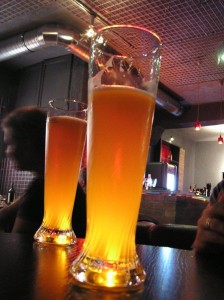 "It is great news that the Chancellor has abandoned the duty escalator and frozen duty on cider this year in recognition of the important role that cider makers play in their local, rural communities as well as the impact on growers and cider makers from the winter storms and rain.
"Responsible drinkers will be able to enjoy British cider as the cycle of continual above inflation increases is now broken."
He said the "common sense" decision would be celebrated by nearly 500 producers across the country, most of them in the West Country. It would protect the investment they have made over many years to grow the industry and support the rural community – as well as supporting thousands of jobs.
"As the investment cycle for our industry is measured in decades, we have a critical need for stability on duty and policy and we hope this decision signals a period of sustained support from Government for a great British success story," he said.
He also welcomed the 1p reduction in beer duty as it would help support pubs. "This represents modest support for pubs which have struggled in recent years," he said.
"This is to be commended as pubs play an important role in communities and support significant employment."
Cider makers would also benefit from Budget incentives to promote business investment and exports, including the extension of the Annual Investment Allowance and more lending to those selling overseas.
"Many cider makers have and will to continue to invest significantly in their businesses, hence the announcement on the Annual Investment Allowance is welcomed, as is the support UK manufacturers seeking to export," he added.
"UK cider makers account for over half of all cider produced in the world and British businesses are very active seeking to grow export markets, so this might present a terrific opportuntity for producers and the UK economy."
The Chancellor said: "We've introduced new laws to prevent alcohol being sold below minimum tax rates, and this helps prevent supermarkets undercutting pubs, and helps stop problem drinking.
"It's a far more targeted approach than the alcohol duty escalator hated by many responsible drinkers."
He said the freeze in duty on ordinary cider would help some cider makers in the West Country hit hard by the recent weather. Scottish Whisky, which he described as "a huge British success story" will also enjoy a duty freeze.