Bristol's TV industry is continuing to recover from the effects of the coronavirus pandemic with two popular shows filmed in the city back on the screen this month.
The city provides a number of locations for the return of contemporary detective series McDonald & Dodds later this month while a new series of CBeebies award-winning Andy's Aquatic Adventures produced by BBC Studios Natural History Unit started last Monday.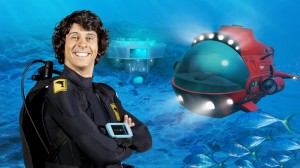 Andy's Aquatic Adventures, pictured, was the first title to restart filming at Bristol's Bottle Yard Studios after the UK's first lockdown forced filming to pause last year.
Filming originally began on the 15 episodes last February only to be brought to a sudden halt when the first lockdown came into force the following month and all productions were halted.
After a short interval where the studios and individual production teams worked to implement a wide range of Covid safety protocols, Andy's Aquatic Adventures was the first title to resume production in July, marking an important moment for Bristol production.
Meanwhile the success of the first three-episode series of McDonald & Dodds last year, which starred Tala Gouveia and Jason Waktins, pictured, as mismatched detectives, prompted production company Mammoth Screen to return to Bristol last September to shoot a second series.
Working in-line with Covid-19 restrictions, it spent four months filming at various locations in Bristol and Bath, including the vast A Bond Tobacco Warehouse on Cumberland Road, which was transformed into a wartime bunker, Berkeley Square and in the Lord Mayor's Reception Room at City Hall.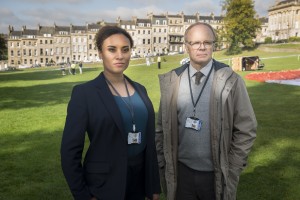 Bath locations included Royal Victoria Park, the Guildhall and the city's new Indigo Hotel.
Andy's Aquatic Adventures series producer Mark Jones said: "It was a turbulent year, but our team overcame numerous challenges, solved countless problems and got us filming again on the 80ft greenscreen, in line with broadcaster guidance on Covid-safety and the studio's protocols.
"I'm proud to say that with the help of footage from the magnificent Blue Planet II archive, engaging scripts and editing, superb cinematography and out of this world VFX, we've undoubtedly created some of Andy's best adventures ever – even with the odds stacked against us."
Changes put in place included a stripped back crew, in which Mark Jones served as series producer, director, assistant director and script supervisor. Front man Andy Day, CBeebies' longest-running and much-loved presenter, was required to apply his own make up after video tutorials. Use of PPE was mandatory and social distancing was strictly adhered to, with output viewed on individual monitors.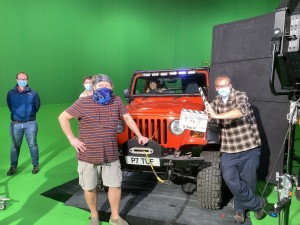 Senior Bristol film manager Laura Aviles, who is responsible for The Bottle Yard Studios and Bristol Film Office, said: "It's a significant moment to witness the launch of the new series of Andy's Aquatic Adventures.
"The Bottle Yard team put so much work into getting the right safety protocols in place for the studios to be granted 'Covid-secure' status that made it possible for productions to restart. Mark and his team were faultlessly professional and resourceful throughout and when their cameras were the first in the studios to start rolling again, it was a really positive, landmark moment.
"We were also delighted to welcome Mammoth Screen back to Bristol for the second series of McDonald & Dodds, supported by our Film Office. This is another great example of how together Bristol and Bath make the West of England a fantastically strong choice for TV and film production, which companies return to again and again."
Andy's Aquatic Adventures is a continuation of the highly popular strand which comprises Andy's Wild Adventures, the BAFTA-nominated Andy's Dinosaur Adventures, Andy's Prehistoric Adventures and Andy's Safari Adventures, which was named Best Pre-School Children's TV Programme at the 2020 Broadcast Awards.
Andy's Aquatic Adventures is a co-commission from CBeebies in the UK and BBC Sales & Distribution for the international CBeebies channels.
The new series of McDonald & Dodds again consists of three, two-hour long episodes, the first two airing on ITV at 8pm from February 28.
The series again pairs feisty DCI McDonald, (Tala Gouveia - Cold Feet) who had recently transferred from the Met Police at the beginning of the first episode, with the unassuming DS Dodds (BAFTA-award winning actor Jason Watkins - The Lost Honour Of Christopher Jefferies, Des).
To McDonald's surprise they formed an unexpectedly effective crime-solving partnership.
They are joined in the first episode by a star-studded guest cast that includes Rob Brydon (Gavin & Stacey), pictured above, Rupert Graves (Sherlock), Martin Kemp (The Krays), Patsy Kensit (Absolute Beginners) and Cathy Tyson (Mona Lisa), pictured below.
Shelley Conn (Liar), Natalie Gumede (Strike), Sharon Rooney (My Mad Fat Diary) and John Thomson (Cold Feet) join the second film and Saira Choudhry (No Offence), Rosie Day (Outlander), Nitin Ganatra (EastEnders), Nicholas Goh (Skyfall), Siobhan Hewlett (Sherlock), Sarah Parish (Bancroft) and Rhashan Stone (Finding Alice) guest star in the third film.
Returning cast includes James Murray as Chief Superintendent Houseman, Jack Riddiford as DC Darren Craig with Lily Sacofsky joining as DC Milena Pachiorkowski.
Last month Bristol Business News revealed that the highly successful Bottle Yard studio complex is to be expanded, creating around 1,000 jobs over the next 10 years and boosting the city's status as a prime location for film and TV production.
The West of England Combined Authority (WECA) has approved £11.73m for the Bristol City Council-owned studio to buy land on a neighbouring business park in the south of the city and to start construction of new sound stages, production offices and prop stores.
The proposed works will increase the number of sound stages available at the studios from eight to 11, while improvement work will also be carried out on the existing buildings on the main site.
More than 60 titles have been produced at the studios since they opened 10 years ago in disused wine warehouses on a seven-acre site owned by the city council.
Productions have ranged from high-end TV dramas Poldark, Broadchurch, Fortitude, Wolf Hall, The Trial of Christine Keeler, The Spanish Princess (pictured below right) and The Pale Horse (pictured below left) and films such as Hellboy and The Festival to light entertainment programmes The Crystal Maze and Tipping Point.
McDonald & Dodds photos courtesy of ITV. Andy's Aquatic Adventures photos courtesy of BBC