Bristol has developed Europe's most exciting 'deep tech' ecosystem where innovators can accelerate ground-breaking ideas in areas as diverse as AI, synthetic biology, nano technologies and quantum computing, guests at the opening of the city's new Science Creates centre were told.

The incubator in Old Market is already becoming a home to a new generation of scientists-turned-entrepreneurs leveraging advanced technologies and tackling major problems such as cancer, vaccine development and climate change. 
But it also be a symbol of the city's potential to create a world-class ecosystem capable of nurturing the next generation of science and engineering start-ups and spin-outs.

It will provide them with the essential ingredients for success – laboratory space, mentoring, support, the opportunity to collaborate with other businesses and, perhaps most vital, access to finance through its own fund, Science Creates Ventures.
The lack of a Bristol-based specialist, early stage venture capital fund has long been seen as the only missing part of the equation needed to create a fully supportive tech and science ecosystem in the city.
Science Creates is the brainchild of Bristol-based chemist and investor Dr Harry Destecroix, who four years ago launched the first city's first science incubator, Unit DX, in St Philips after discovering there was no home for science companies in the city.

One of its first residents was his own business, University of Bristol spin-out Ziylo, a biotech working to develop one of the first smart insulins to help people suffering from diabetes.

A year later Ziylo was bought by pharmaceutical giant Novo Nordisk in a deal potentially worth $800m (£628m).

It was then that Harry, pictured speaking at last night's opening ceremony, saw the opportunity to expand his incubator into an ecosystem that invested in and supported other exciting deep tech innovations.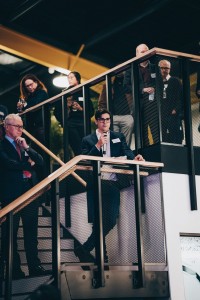 The new building provides an additional 30,000 sq ft of state-of-the-art laboratories, offices and event space to support the growth of deep tech start-ups.

Science Creates' two incubators, which are operated in partnership with the University of Bristol and Research England, have a combined physical footprint of 45,000 sq ft and supporting around 100 companies with the potential to create up to 450 jobs.
Officially opening the new building at a reception last night, University of Bristol president and vice-chancellor Prof Hugh Brady said: "When I arrived in Bristol seven years ago having worked in places like Boston and Toronto I saw that it had all the ingredients for a great ecosystem.
"Harry is the gel that has brought it all together. Bristol now has the most exciting ecosystem in Europe."
Science Creates is already incubating some of the most exciting deep tech companies in the country which collectively raised £18.4m in 2021, including:
Imophoron – a University of Bristol biotech start-up developing a novel, next generation rapid-response vaccine platform. It has raised £4m, led by Science Creates Ventures.
CytoSeek – a University of Bristol spin-out developing new cell therapies to treat solid tumours. It raised £3.5m in March, in a round led by Science Creates Ventures.
KETS Quantum Security – also a spin-out from the University of Bristol, developing hardware to protect data from a new generation of cyberattacks that could use quantum computers to break through all existing encryption protections. It raised £3.1m in August.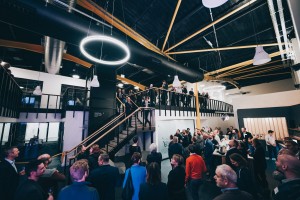 QLM Technology – a start-up on a mission to help organisations reach net-zero emissions. Its quantum-inspired technology can detect large areas of emissions of methane and other key greenhouse gases from a safe distance. It raised £3.1m in April.
The opening of Science Creates' new centre is the latest step in Bristol fast becoming the UK capital of deep tech innovation as it continues to attract significant venture capital investment.
Last year it ranked the third-highest UK city for venture capital (VC) investment, valued over $400m, with much of that going into deep tech companies such as semiconductor company Graphcore and Vertical Aerospace, which is developing a world-beating electric-powered 'flying taxi' that could revolutionise air travel.
The city attracted more VC money than many of its European counterparts including Tallinn, Barcelona, Oslo, Madrid and Bucharest.
Bristol is expecting similar success this year too – according to data from Tech Nation, after London, it has attracted the most VC funding in the UK so far this year.
Dr Destecroix said: "Boston might be the powerhouse for deep tech, but we believe Bristol will also become famous for being a world-class ecosystem that supports scientists and engineers in commercialising ground-breaking innovations.
"The city is home to creative, innovative trendsetters and it has world-class research universities and a strong sense of community.
"But we are only just getting started. Bristol continues to grow as a hub for helping scientists take their discoveries off the shelf and into the real world.
"Our strength lies in deep tech – an area that is growing more than twice as fast as any other tech sector.
"This is where Science Creates comes in. We have two purpose-built incubators, a venture capital firm funding early-stage start-ups, and a network of mentors and advisors with specific, relevant experience – all of which is vital for business development and innovation."
Science Creates has also launched Science Creates Outreach, a charity that aims to inspire the next generation of scientists, innovators and entrepreneurs.
It has already hosted scores of visits by schools which allow students to get hands-on in its Learning Lab.