Creating sustainable businesses through innovation will be the theme of two days of events next week as part of Bristol's BIG Green Week – with a live video link with Sir Richard Branson among the highpoints.
Sir Richard will be among a panel of experts answering questions on innovation from the audience at the Arnolfini on Tuesday at 6.3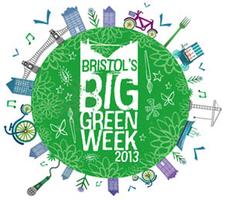 0pm.
"Many people have fantastic eco-innovation concepts – they simply need the tools to turn their ideas into reality," said Sir Richard, whose latest book Screw Business as Usual celebrates the new wave of emerging entrepreneurs who while wanting to develop a business and make a living also want to do more to help people and the planet.
The event, chaired by founder-director of Forum for the Future and veteran campaigner Jonathon Porritt, will take the form of a discussion on the challenges for businesses as sustainability becomes more vital and will examine the new business models that will help create the innovative culture needed to meet those challenges.
Also on the panel will be award-winning Bristol-based young social entrepreneur and founder of FRANK Water Katie Alcott; chief executive of RegenSW and former director of the Environmental Industries Commission Merlin Hyman; and the creator of the first official UK Government's carbon calculator Paula Owen.
The event is a double bill with a session on economic innovation with speakers Charles Eisenstein, described as "one of the up-and-coming great minds of our time" and Jacqueline McGlade, who has just ended 10 years as director of the European Environment Agency,
The previous evening will focus on celebrating Bristol's influence as the UK's green capital – and possibly celebrating its success in becoming the European Green Capital 2015 following Friday's announcement of the winner. Bristol is competing against Brussels, Glasgow and Ljubljana for the coveted title.
Monday's event, at City Hall from 7pm to 9pm, will feature a panel of eight speakers who will have 10 minutes each to look at their role in creating the world-changing innovations that are being worked on in Bristol.
Among the speakers will be Rob Asquith of New Earth Solutions; Ruth Barden, environment and catchment strategy manager at Wessex Water; Malcolm Anderson of the National Trust; Richard Cresswell of the Environment Agency; David Ainsworth of Siemens' Marine Current Turbines; and Soil Association CEO Helen Browning.
Plus Mayor George Ferguson will set out his eco vision for Bristol. The event comes as interest builds in the first Bristol Innovation Awards, which are being staged by Bristol Business News and its sister magazine WestBusinessNews and which includes a category on innovation in sustainability.
The business-related events form a fraction of BIG Green Week which in total includes 120 events in the city over nine days. It opens this Saturday with a glamorous launch party and fare fashion show at City Hall. On the same day the Festival of Nature – Europe's biggest free natural history festival which this year celebrates its 10th anniversary – take place at the Harbourside while on Sunday morning Bristol's Biggest Bike Ride sets off from Millennium Square.
Some 40,000 visitors are expected to come to the city for the nine days of inspiring talks, workshops, art, music, poetry, comedy and films – nearly half of all which are free.
Among the big names lined up for the events are BBC presenter Alice Roberts, comedian Tony Hawks and poet John Hegley.
Alastair Sawday, Bristol-based founder of Sawday's independent travel publisher of low-carbon travel guides and ambassador for Bristol's BIG Green Week, said the festival perfectly captures Bristol's energy and enthusiasm for green living.
"The range of green initiatives in Bristol is remarkable," he said.
"We have an independence of spirit and an intelligent, resourceful approach to all things eco that is brilliantly manifest in our BIG Green Week. We are a city straining at the leash to achieve huge things on the green scene."
For the full festival line-up and other information visit www.biggreenweek.com