In just three years, university graduates Ed Brown and Griff Holland have started a company and opened an impressive four restaurants. Now, their ethos of putting 'green' at the heart of their business has landed them a major award at this week's BIG Green Week.
Business West, the business support organisation which runs Bristol Chamber of Commerce, announced Friska as winner of The Green Business of the Year Award 2013 at a ceremony at yesterday's Putting Green into the Heart of Your Business event at Leigh Court, near Bristol.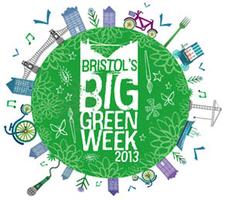 Judges Nina Skubala from Go Green Bristol at Business West and Simon Billing from Forum for the Future selected Friska in recognition of "excellence in environmental responsibility, employee engagement, water efficiency, energy efficiency, sustainable transport, sustainable procurement and waste reduction."
Friska, which now has four restaurants in Bristol, is all about what Ed and Griff call: "Feel-good food that is freshly prepared, interesting and inspired from countries around the world. We are proud to work with all our suppliers (free range and quality led) and feel that we have a great environmental policy and values."
This environmental ethos has been developed through working with Go Green, a unique Bristol-based initiative which helps companies save money and increase profit through reducing, reusing and recycling waste materials. Griff Holland first heard about it at a networking event and says Go Green has been invaluable in advising on improving energy efficiency and waste management.
He said: "We are a member of The Sustainable Restaurant Association and are winners of the Society Award 2012 for our involvement within the community.
"We feel we are now capable of opening lots more restaurants, this time all around the country. We currently employ over 30 people and expect to reach a turnover of approximately £1.5m this financial year."
Working with Go Green enables Friska to do three things, said Griff: "Make food to be proud of. Make our customers smile – and come back! And attract and keep great people to work with.
"The support and guidance that the Go Green programme has given us has been invaluable and has allowed us to make investments within the business, which have significantly improved our energy efficiency and waste management."
Improvements that have enabled Friska to save money, while building up their business, include using alternative kitchen equipment, energy efficient capital investments and the introduction of a 'zero waste to landfill' policy.
Griff added: "I have no doubt measured against turnover, the savings we have made have been financially significant and qualitatively meaningful. We are now able to be true to our word in terms of sustainability."
Go Green is a gateway for people that would like to become more environmentally efficient, but are uncertain of what to do next. As part of the service, fully-funded workshops for eligible businesses are held across Bristol.
The contest ties in with Bristol's BIG Green Week which runs until this Sunday and has had a number of top business events at the heart of the week.
See www.biggreenweek .com for more details.