Two Bristol film production companies and a natural history filmmaker scooped major awards at the prestigious international Wildscreen Panda Awards – the 'Oscars' of the wildlife film industry – which took place in the city last night.
The Disneynature Innovation Award went to Tigress Productions for its hi-tech natural history film Hippo: Nature's Wild Feast, which was screened on Channel 4 last year.
The BBC's Frozen Planet, produced by the Bristol-based Natural History Unit, collected the most awards of the night, taking Series Award, Panasonic Cinematography Award and Films@59 Sound Award.
Bristol-based Alastair Fothergill won the prestigious Outstanding Achievement Award which is given to an organisation or individual that has made a globally-significant contribution to wildlife filmmaking, conservation and/or the public's understanding of the environment.
The award, presented last night by natural history TV doyen Sir David Attenborough, is one of two that are considered to be the highest accolades a natural history filmmaker can achieve. These awards cannot be entered but are bestowed by the judges.
This year's Golden Panda award, which goes to the best overall production, went to My Life as a Turkey by Passion Pictures, commissioned by the BBC Natural History Unit & PBS. The film also took the Discovery People and Nature Award.
The Panda Awards, staged at The Passenger Shed, Brunel's Old Station, Temple Meads, are the centrepiece of this week's Wildscreen Festival, the leading bi-annual natural history film event now in its 30th year.
The ceremony was presented by Richard Terry and Liz Bonnin.
Some 59 films were shortlisted for the 21 award categories from a record number of 491 entries from 46 countries.
The shortlist was whittled down by an international panel of industry experts and the winner's were then selected by Annette Scheurich (Marco Polo Film AG), John Waters (Director/Cameraman & nominated for an EMMY for his work on Meerkat Manor), Steve Burns (Rollercoaster Road Studios), Tommy Garnett (Environment Foundation for Africa & IUCN CEC), Masaru Ikeo (NHK Media Technology Inc) and Perrine Poubeau (France 5).
Wildscreen chief executive of Richard Edwards said: "This has been the festival's most successful year since it started 30 years ago. We've had more entrants from a wider range of countries around the world than ever before. We also had the highest number of films from new entrants. It's clear that passion for natural history filming is thriving."
Wildscreen Festival is the leading bi-annual wildlife and environmental film event and attracted a record number of visitors this year. More than700 delegates attended the festival and so far an estimated 1,000 members of the public have attended the free events organised at part of the Wildscreen Fringe Festival which will continue for another week.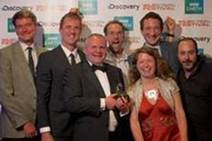 Members of the public can watch a selection of the nominated films for free at Watershed until Friday 26 October.
Right: The Frozen Planet team with one of their three awards
Below: Alistair Fothergill receives the Outstanding Achievement Award from Sir David Attenborough