A major regeneration project on the edge of Bristol city centre will become a testbed for new ways of creating sustainable communities and affordable housing, according to property developer Gavin Bridge.
Gavin, pictured, who launched his own business this month, believes Bristol needs to address its new home provision – with more emphasis on family houses rather than just apartments in the city centre and a better mix of social housing, shared ownership, later living and build-to-rent.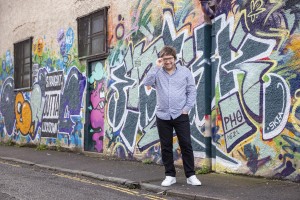 His new firm Spatia, which he has formed after 17 years as a founder-director of Bristol-based Cubex – the developer behind the city's highly successful Finzels Reach scheme on the 4.7-acre former Courage Brewery site – will develop the Frome Gateway scheme as its first project.
Gavin worked on the scheme, which aims to regenerate the St Judes area, while at Cubex and it has already attracted investment from PfP Capital, the fund and asset management arm of Places for People Group.
The strategic partnership aims to transform the mainly industrial site, pictured below, which is bounded by the M32, Pennywell Road, Riverside Park and Cabot Circus car park, into a balanced new neighbourhood, which will make the most of the River Frome frontage – now mostly ignored – as well as new walking and cycling links with the city centre.
Spatia is looking to build between 500 and 600 homes on the site and has already consulted with local people on the type of accommodation.
Gavin, who grew up in Liverpool and has worked on developments across the UK, would like to see a wider and more honest discussion in Bristol about housing – and wants Frome Gateway to act as a pioneer for new designs. He says one of the reasons behind the launch of Spatia was to challenge the status quo.
"We're looking at net zero carbon homes, we're looking at a real mix of styles," he said. "I'd like to see more houses. We've been building just apartments in city centres for a long time but as people put down roots they want to live in houses. They don't necessarily want to move to the suburbs," he said.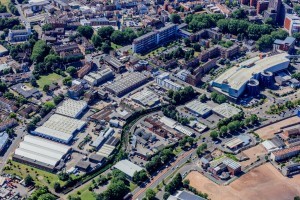 "I'm also interested in housing that brings different generations together. Bristol is a great city for arts and media. It's a vibrant city and it's attracting  people from other places so we need a greater diversity of housing.
"We also need a better mix of homes for rent and sale and we need to think about how we build them in Bristol. It's interesting, in other cities such as Manchester they go high – 25 storeys or 40 storeys. In Bristol 15 storeys is seen as high. Perhaps we need to be more open to ideas."
He is also keen on overcoming some of the physical barriers that the opening of the M32 in the 1970s brought with it.
"If you look at old aerial photos taken before the M32 was built you could walk from St Judes to St Pauls or to Old Market. The neighbourhoods were interlinked. Now you can't. We want to open up walking and cycling routes through and into the site.
"I'm keen on promoting electric vehicles and I'm really interested in these electric scooters that are being trialled in Bristol at the moment. We're looking at a really good digital infrastructure and also want to link to the city's district heating scheme.
"The River Frome itself is a great asset. We want to bring it to life."
He also wants to harness new designs and building techniques to change the nature of developments such as Frome Gateway. 
"I was talking to someone recently who uses design to change the sounds of places. Wouldn't it be great if we could design Frome Gateway so that people heard the river rather than the motorway."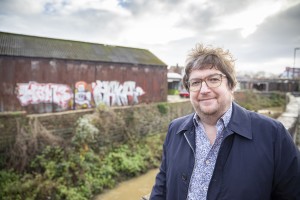 Spatia's goal is to create 2,500 low and zero carbon homes over the next few years on sites across the South West. Gavin says he's looking for possible development schemes in Bath, Swindon, Exeter and more in Bristol.
The schemes will be mixed use as he can draw on his experience at Finzels Reach, where he steered the development to include apartments, high-quality offices, bars and cafes and a hotel in what has become a new quarter for the city and home to 2,500 people as well as Channel 4's new creative hub and showpiece offices for law firm Simmons & Simmons among others.
Its final phase – which will include a new Bristol office for international law firm Osborne Clarke -was launched last year, a landmark that Gavin said sparked his decision to launch Spatia while Cubex's directors wanted to take the firm in a different direction.
He said: "I'm hugely excited to be embarking on a new venture at a time when the world of property, an industry steeped in tradition, is having to reinvent itself as we experience a major shift in how we live, work and play.
"That is a space I want to be in; challenging the status quo, raising the bar and instigating real change, transforming places, communities and lives by creating sustainable, inclusive neighbourhoods, future-fit, healthy workspaces and low and zero carbon homes that connect people."
Spatia is looking to build on its strong foundation of existing relationships by collaborating with like-minded and complementary partners including funders, local authorities and housing associations on future projects as either a development partner or as a development consultant advising family offices and institutional investors requiring regional knowledge and expertise.
It is focused on buying land without planning consent, adding value using its know-how and experience in property development, and developing out projects of scale through to completion.
The company is targeting mixed-use, residential-led development opportunities from £50m gross development value (GDV) upwards, typically on post-industrial land in urban centres, repurposing redundant retail space and development around transport hubs.
Spatia is also keen to work in the build-to-rent, later living and hospitality markets, as well as developing sustainable, healthy office buildings typically of at least 50,000 sq ft.
Gavin added: "Spatia is very much a regional urban regeneration specialist; I believe each development should have its own distinct identity, balanced mix of uses and be reflective of its surrounding community.
"At Spatia, we are open minded, always challenging ourselves to do better, and we care deeply about 'doing the right thing' and the impact we have on the places and people where we operate."