The centre of Bristol will undergo a new residential revolution over the next two years as thousands of new apartments are built, many of them in converted office blocks, according to new research.
Bristol has already experienced a big increase in city-centre living over the past decade and is behind only Manchester and Birmingham in terms of a rapid rise in the population of its central area, with a 30% increase in the past 10 years.
Research by property advisors Jones Lang LaSalle, which will be revealed later today at its annual South West Market Review, predicts that thousands of apartments will be built across the South West over the next two years, including accommodation for 3,000 students in Bristol. This trend will have a major impact on how the city centre develops, it says in a new report Guide to the Urban Jungle.
This is partly driven by the relaxation of planning regulations which have allowed offices to be converted into apartments.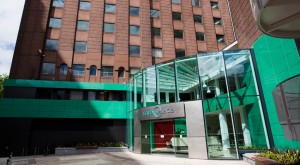 Jones Lang LaSalle predicts that an estimated 750,000 sq ft of office space could be converted, with 1m sq ft across the entire South West. In Bristol, these developments include Westgate, The Pithay – at one time the city centre's largest office building – and Lewins Place.
Jeremy Richards, head of Jones Lang LaSalle's Bristol office, said: "These are big changes that are going to radically change the city centre as we see a more diverse mix of uses in formerly pure business locations."
Jones Lang LaSalle estimates that the new students moving into Bristol will consume an additional 1.5m cups of coffee, 3m pints of beer and 750,000 take-away meals each year – representing a huge opportunity for businesses in the hospitality industry.
"This urban shift is the great theme of our age, and Bristol will not remain untouched by this in the coming years," added Mr Richards.
"In fact, our growing city centre population and strong economy means the city is well placed to benefit from this trend.
"Between 2001 and 2011, Bristol's city centre population rose by 30% – behind only Manchester and Birmingham – and there is an increasing concentration of young, skilled employees in city centres, many of whom do not own cars.
"This means that the demand for city centre offices close to transport links is going to rise. Changes in working practices, such as flexible working and cloud computing, and the blurring of boundaries between work and leisure will also mean that those places that can offer central, well connected social spaces will thrive."
This is part of a global trend. More than half of the world's population – 51% – now live in cities compared to 30% in the 1950s. That figure is predicted to rise to over 70% by 2050.