The near record-breaking depth of snow this ski season is tempting even those who haven't skied for years back to the Alps. In the first of two exclusive reports, Bristol Business News travel editor Anne Gorringe looks at the attractions of the high-altitude French resort of La Rosière
The friendly elephant peering in through the window of the hotel bar took me by surprise. It shouldn't have done. My ski instructor Xavier had already insisted that La Rosière was where Hannibal and his mighty army – famously with 67 elephants – crossed the Alps back in 216BC.
The 'elephant' on the terrace outside the bar at the Hyatt Centric
And Xavier should know. He was, quite literally, born on the sunny south-facing slopes of La Rosière. His mother went into labour when she was out in the fields and Xavier, the ninth of 10 children, arrived a little quicker than expected.
As we chatted in the chairlift on our way up the mountain he pointed below saying: "I was probably born on the side of that piste there!"
Ski instruction is in his blood as Xavier followed in his father's profession. As a young instructor in the 1960s, his father – now 85 and still living in La Rosière – taught on the slopes in Val d'Isere.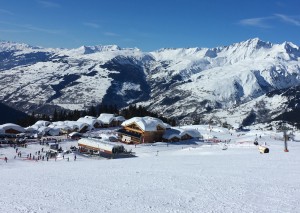 But, according to Xavier, his father then became a key player in the development of La Rosière in the 1970s.
Looking down from the slopes towards La Rosière
"He was inspired," says Xavier, explaining that his father had a 'lightbulb moment' one day when looking across the mountain back to his home village.
He saw the potential for skiing on the high, sunny, south-facing slopes, got together with a group of friends and local businessmen and helped build the first chair lift here.
Today, La Rosière is a traditional chalet-style village, just up the road from Bourg-Saint-Maurice at an altitude of 1,850 metres and known for its charm and stunning panoramic views.
Nestling on the border with Italy, it offers a friendly vibe and the added attraction of a new luxury Hyatt Centric hotel. It's the first Hyatt in the Alps and great news for business travellers who can use their hotel points for free upgrades.
It's more family friendly (and much quieter at night) than its more famous neighbours of Les Arcs, Tignes and Val d'Isere.
This season, like many resorts in the Alps, La Rosière is enjoying almost unbelievably high levels of snow – 8 metres, in fact. The best snow, insists Xavier, in the whole Tarentaise Valley.
Grab a deckchair at L'Antigel on the slopes
Its link with La Thuile in Italy means that one ski pass will take you over the border for a pasta lunch and slightly more challenging skiing. Both resorts share the big area of slopes called Espace San Bernardo. (A quick word of warning here. In bad weather and heavy winds, the link to the Italian slopes can be closed.)
Slope-side cafés in the sun in La Rosière are my favourite attraction – hot mulled wine, plus deckchairs to relax in. Read on for more of the highlights on – and off – piste.
WHERE TO EAT: Cafe l'Antigel on the Tetras blue run above La Rosière is a great spot – though it's worth booking your table in advance if you want to have lunch at busy times. http://www.lantigel.com/For a snack, Resto Rapide on the Col De La Traverse at 2,380 metres at the top of the Fort cable car on the way into Italy, is a simple hut with an outside bench but offers great vin chaud with freshly-cooked galettes (pancakes). 
HAVE THE SLOPES TO YOURSELF: March 10 onwards is an ideal time to go as mid-term school holidays – which appear to take place in a different week in each country – mean they are very busy. Enjoy clear slopes – and cheaper prices – before the Easter break.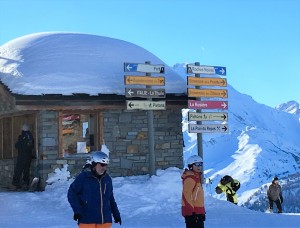 Decisions, decisions. Go one way for Italy and La Thuile and the other back into the French resort of La Rosière 
HOME OF THE SAINT BERNARD: At a height of 2,188 metres, the Petit St Bernard Pass marks the border between France and Italy. Back in the 17th century the monks living here adopted Saint Bernards to use as guard dogs and trained them to rescue travellers in distress.
WHERE TO STAY: The new four-star Hyatt Centric, which opened in December, is ideally located at the bottom of the Eucherts ski slopes. All bedrooms are spacious and have balconies with mountain views. It also has a south-facing swimming pool and spa. Seven-night stays from Sunday to Sunday are available along with shorter Heliskiing Trips in low season. Stays from now onwards also receive a VIP first-tracks trip so you can be first on the groomed slopes between 7.30am and 9am. The Hyatt is certainly worth trying if you want a taste of luxury – or just want to ski for half the day and enjoy the spa in the afternoon. From €220 for a double room with breakfast. For more info contact Eric Falcucci on +33 (0) 7 82 74 28 85. Email: eric.falcucci@hyatt.com  https://larosiere.centric.hyatt.com/en/hotel/home.html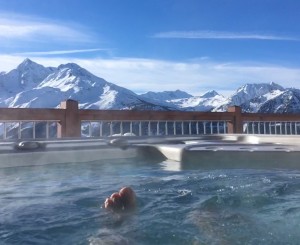 TAKE TO THE SKIES: If you've ever dreamt of soaring like an eagle over alpine forests, get strapped onto an instructor and try paragliding. La Rosière is a great place to give it a go. Helicopters are banned in the French Alps – but not in Italy – so you can travel across the border to go heliskiing.
The hot tub at the Hyatt Centric: Perfect for relaxing those aching muscles after skiing
The Hyatt Centric offers trips, which include flights, transfers, three or four-night stays with half board, lift passes, ski rental, two heliski drops per person and a welcome drink on arrival. Available dates are March 4-23 and April 7-21.
SKI INSTRUCTION: Or, if you're more interested in brushing up your technique, go out with your own instructor. Lessons cost €45 an hour in low season, €55 in high season. Xavier, who works for Evolution 2, is one of many English-speaking instructors in the resort. Contact the tourist board for more info http://www.larosiere.co.uk/lessons.htm
SKI PASS PRICES: Espace San Bernardo (La Rosière – La Thuile) has 160km of slopes. An adult one-day lift pass is €43.50 or €211.20 for a six-day pass. Four-hour passes are also available if you only want to ski for half a day and enjoy the spa late afternoon. http://www.espacesanbernardo.com/
SKI FIRST TRACKS: Watch the sunrise and have breakfast on the top of the mountain. Every Tuesday, the tourist office arranges for the cable car to open at 7.30am for a dawn trip up the mountains. The ski pass office charges €35 for trip, which includes breakfast with a ski instructor on the top of the pass. www.larosiere.net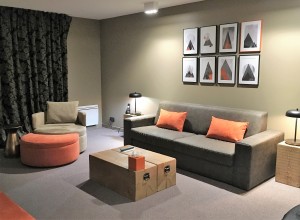 DISCOVER HIGH CLASS WINE: In every sense of the word! The sommelier at the Hyatt Centric has taken wine to a new level. The hotel only sells wine from vineyards across the globe located at an altitude of 800 metres or above. There is even a sweet wine that has been transported to the top of Mont Blanc and put in barrels.
A lounge of a one of the larger rooms at the Hyatt Centric
HAVE A MASSAGE: Altispa is a new spa in La Rosière with aqua bikes, hot tubs, a Japanese sauna, treatment rooms and a salt therapy grotto to energise and vitalise after a day on the slopes. Treatments from €35. Contact the tourist office for more details.
GETTING THERE: La Rosière is accessible from Geneva, Lyon and Grenoble airports, although the closest is Chambéry Savoie Mont Blanc Airport. EasyJet flies direct from Bristol to Geneva, from where it's a 2-hour, 40-minute drive. Flybe operates a service to Chambéry from Southampton Airport. There are also regular flights to Chambéry from London airports with British Airways and Flybe. http://www.chambery-airport.com/en An alternative is to take the train to Bourg-Saint-Maurice https://uk.voyages-sncf.com/en/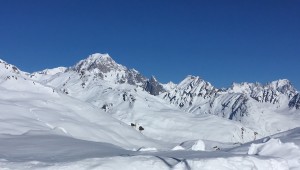 Looking across to Mont Blanc from the top of the cable car
SEE CYCLING HISTORY IN ACTION: Not interested in a winter ski trip? Then plan your visit in July instead. The Tour de France will be stopping in La Rosière on July 18 – for the first time in 70 years!
MORE INFORMATION: La Rosière is one of the 112 ski resorts in the Savoie Mont Blanc area. For more information on the region, check out www.larosiere.net and www.savoie-mont-blanc.com
Look out next week for our feature on skiing in Val Gardena in the Italian Dolomites – and why you should be planning a trip there in March