Spectacular scenery and a small but exciting capital city make Iceland a magnet for adventurous tourists. Bristol Business News Travel Editor ANNE GORRINGE took advantage of the recently-launched easyJet direct flights from Bristol Airport to Reykjavik and here gives her top tips for a great weekend away…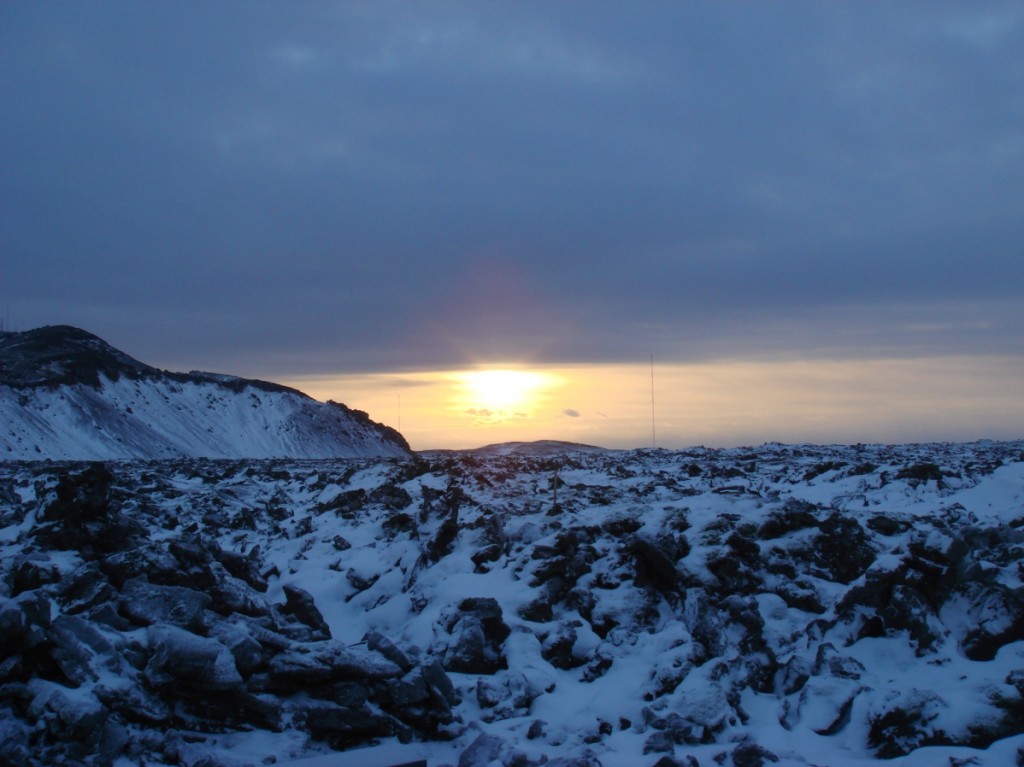 Iceland's amazing lunar landscape is increasingly being used in movies
The lowdown…
Tom Cruise's latest sci-fi epic Oblivion features scenes apparently shot in a post-apocalyptic planet – but after visiting Iceland it was no surprise to discover they were actually filmed in remote volcanic locations in the north of this fascinating country.
Stunning scenery and a jagged landscape give Iceland an 'other-worldly' feel – never more so than in winter when daylight hours are short, tempting most of the country's tiny population (at 325,000 it's less than Bristol's) to stay within the confines of the capital Reykjavik.
But the beauty for tourists is just how easy it is to split a weekend between this buzzing city and Iceland's wide open spaces. The well-organised and daily Golden Circle tours to the amazing Pingvellir National Park, with its waterfalls and spouting geysers, pick-up from most city hotels.
But first, back to the movies. The opening scene in the sci-fi thriller Prometheus was filmed at the stunning Gullfoss Waterfall in this park and Iceland itself is fast becoming the go-to location for directors looking for stunning backdrops.
TV's Game of Thrones and the new The Secret Life of Walter Mitty movie were also shot here, which has given an extra boost to Iceland's already booming tourist trade.
Getting there…
EasyJet's direct flights from Bristol Airport leave twice a week. For a great weekend away, catch the Thursday morning flight, returning Sunday morning. Prices start at £32.49 one way. www.easyjet.co.uk
Make every minute count…
It's a 45-minute coach ride from Reykjavik's Keflavik Airport to the city centre and Airport Express offer transfers from 3,800 Islandic Krona (ISK) (£20) for a return www.airportexpress.is
But make the most of the time and book with Iceland Excursions, whose transfer from the airport goes via the amazing Blue Lagoon (ticket price 3,700ISK – £19.50). Here you can swim outdoors in balmy 37 degree warm waters and rejuvenate your skin with volcanic mud – even when it's snowing! There are lockers to store your bags and free towel and robe hire. Details www.bluelagoon.com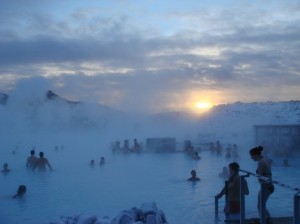 Left: Be pampered at the magical Blue Lagoon on your way from the airport to Reykjavik
Staying there….
In Reykjavik, a room at the boutique 101 Hotel, a great central location, costs from £189.25 a night (35,910 ISK). A bottle of water in the mini-bar will set you back around £2.50. Top tip: Pack your own bars of chocolate and pre-packed nuts to nibble to save a wallet-busting bill from the mini-bar.
And, as you'll be in Iceland for three nights, why not split your time to spend the first night in the Pingvellir National Park – the coach company also offers pick-ups from the new Hotel Ion in the park – before heading for the city for the other nights. It's a good base to try and see the Northern Lights and has a lovely bar with full-length windows. Rooms in the low season (until April) start at a reasonable £80 a night (15,100 ISK).
Getting around….
Iceland Excursions organise trips through their Grayline Tours to the Pingvellir National Park. If you want some action, they can arrange an afternoon's quad biking through the Moon-like volcanic landscape, led by the ATV Adventures company. At around £77, it's not cheap, but they do provide a warm over-suit, and helmet. Top tip: Take your own thick, skiing gloves. If you haven't visited the Blue Lagoon on the way from the airport, you can combine quad-biking with trip there in the same afternoon. See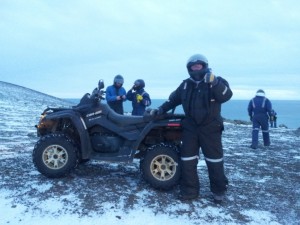 Iceland@grayline.is, grayline.is or ATV Adventures Iceland Atv4x4@atv4x4.is
Right: Out in the icy wilderness, Anne's volcanic safari in chilling December temperatures of around -10 degrees turned her fingers blue. February temperatures are warmer – between minus 3 and 2 degrees!
Don't miss….
An absolute MUST-DO, and for me the highlight of my stay, was the one-day Golden Circle tour of Pingvellir National Park, taking in the wildly-beautiful Gullfoss Waterfall, with lunch at the site of the park's famous geysers. The tour, with Iceland Excursions, costs £50 for a full-day trip.
On the day I visited, the temperature plummeted to an unusually-cold minus 15 degrees, so take your thermals! I made the 10-minute walk to the top of the hill to take this picture and it was certainly worth it, despite the biting cold. Simply breath-taking scenery. Forget Niagara Falls – you'll be blown away by Gullfoss. It's like nowhere else on Earth Marks out of 10? …11!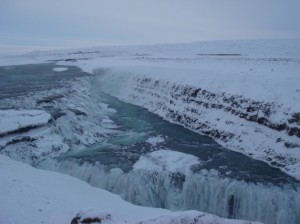 Left: The magnificently wild, beautiful – and unmissable – Gullfoss Waterfall
Time to hit the bright lights of the city…
The country as a whole has little in the way of natural resources or traditional building materials and, explained our tour guide Swan, life here can be tough.
Up to the turn of the 20th century this meant home was likely to be a mud dwelling dug into the ground. "We lived like Hobbits," said Swan. Not surprising, with a population descended from Vikings, they were better at building boats than homes.
Not surprisingly, anyone looking for interesting architecture should head to Reykjavik.
What should I see?…
One of the city's most stunning buildings – the Harpa Concert and Conference Centre ­– owes its very existence to problems caused by the 2008 financial collapse.
At that time, redevelopment of the harbourside Austurnhofn area (dubbed World Trade Centre Reykjavik) had just got under way. The site where the glass-walled Harpa now stands was all set to be the centre for a new bank when disaster struck.
It could have remained a building site, and the government's decision to spend money at a time of nationa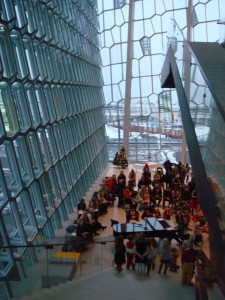 l crisis to create a conference hall on the edge of the ocean, was controversial.
Right: Inside Harpa. The shell of the building is created from 10,000 windows made from 1,000 different shapes
But today, it's a much-loved national treasure with three state-of-the-art concert halls and external 'walls' created from 10,000 windows made from 1,000 different shapes which reflect the light and, in winter, the snowy backdrop.
There are walking tours around the inside Harpa, which was designed by Danish firm Henning Larsen Architects in collaboration with Danish-Icelandic artist Olafur Eliasson. Inside walls are created from a mix of coal and cement, inspired by the surroundings of the volcanic countryside.
If architecture is your passion, it's also worth making time to climb to the top of Hallgrimskirkja church with its iconic 73m tower. Its design is based on the lava flows of the country's landscape and there are fantastic views of the city from the top. Entrance fee is a bargain £3.
What's the food like?….
Iceland has few indigenous animals, though hardy ponies survive there. So fish and puffin are two of the main local dishes, while fermented shark is something of a delicacy and is said to help digestive problems. I tried it at Saegrefinn (The Sea Baron) restaurant on the harbourside. If tempted, you'll probably need the vodka 'shot' that comes with it to mask the taste!
Tapas are also offered in many restaurants, which are certainly easier on the stomach for tourists. The harbourside restaurants offer a great chance to try them.
The food market near Harpa also offers samples of dried fish and other specialities, including brains – which was too much even for me. Learn more on a tourist board 'food tour' around Reykjavik – see Visit Reykjavik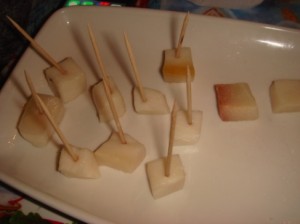 Left: Locals swear by fermented shark and say it helps with any digestive problems
What about the bars?….
The trendy locals don't come out until late – around midnight on a winter Friday night. So bars don't start buzzing until 1am. I'm told that it's a different story in summer, when the long, light days and nights mean Icelanders often party for 21 hours a day.
I didn't spot Bjork on my tour of Reykjavik's nightspots – I later heard the best place to bump into her is at one of the spas rather than the bars. This is where locals go to warm up and chill out after work, rather than heading to a bar for a beer.
My favourite bar was the trendy Kaffibarinn – part-owned by Blur's Damon Albarn and with a Tube station sign outside to reinforce the London connection. But be warned: a pint of beer here can cost a headache-inducing £8.
The locals in this candlelit bar were friendly and laid back and it was convenient for Hotel 101, where I was staying. The city centre itself is compact, easy to navigate and ultra-cool. But the one thing that will stay with me the longest about my short trip to Iceland was my visit to the Gullfoss Waterfall. All those film directors can't be wrong!
Anything else I should know?….
Iceland is positioned over two tectonic plates, which goes some way to explaining the frequent earth tremors. Around 200 earth tremors (not quakes, but enough to register) are recorded each week. The geo-thermal power plant in the Pingvellir National Park harvests enough 'free' hot water to supply all the buildings in the country, so heating bills are only around 20% of the UK rate.

Iceland has the oldest parliament in the world

According to NASA scientists, this month is due to be one of the best times to see the Northern Lights in Iceland.
Instead of going to a bar straight from work, locals in Reykjavik tend to pop into one of the cheap, government-owned spas, where entrance is just a couple of pounds. Bjork is said to be a regular at one of them.

The Icelandic singer shares her name with one of the local liqueurs. Bring home a bottle of Bjork from an off-licence for around £27.