All eyes are on Russia now the World Cup's underway in cities across this massive country. However, the focus for business travellers remains the capital Moscow, with its major conference centres and business hotels. It's easy to add on a day or two to a business trip to enjoy this fascinating city. Bristol Business News travel editor ANNE GORRINGE flew there with Russia's biggest airline Aeroflot, which is frequently praised for its impressive business class service. Keen prices and the promise of flat beds on many of its long-haul flights also make Moscow the perfect stopover on the way to sunnier climes.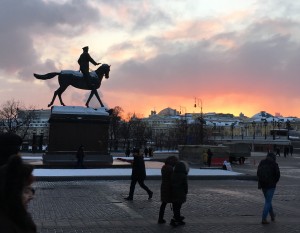 CITY FACTS: Moscow continues to be an important city for British business travellers despite recent events straining relations between Russia and the UK. Located on the banks of the Moskva River, it is a vast, cosmopolitan city of more than 13m people and famous as the home of the renowned Bolshoi Ballet, The Kremlin, Red Square and Lenin's Mausoleum. Two-and-a-half miles west of its historic centre lies The Moscow International Business Centre, one of the largest financial centres in Europe. Here also is Europe's tallest building, the Mercury City Tower which, at 338.9 metres, overtook London's Shard when it was completed in 2013. But given its vast size, the easiest way to see Moscow's top sites is to book accommodation near Red Square.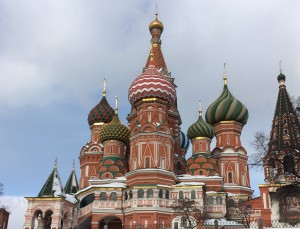 RED SQUARE: The beating heart of Moscow for the past 500 years and through periods of incredible change and changing times. At one end stands a statue of Marshal Zhukov, pictured above, who captured Berlin in 1945, while Lenin's tomb (a major draw for Chinese tourists) sits in the middle. At the other end the colourful, flame-like domes of St Basil's Cathedral, pictured right, point to the sky. In recent years, the square has been restored to its pre-Soviet appearance and is a must-see. 
ST. BASIL'S CATHEDRAL: St Basil's stunning architecture continues to fascinate. It was built between 1555-1561 on the orders of Ivan the Terrible as a tribute to his success in battle and nothing like it had ever been seen before.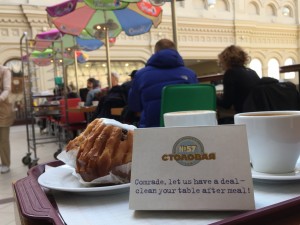 THE KREMLIN: Russia's biggest fortress and the seat of power for President Putin. It's surrounded by high walls interspersed with a succession of corner towers topped with spires. Visitors are only allowed inside parts of the huge complex, which take in several impressive museums along with the Assumption Cathedral. This dates back to 1475-1479 and was where all the tsars were crowned. The museums are open every day except Thursday.
THE TSARS' JEWELS: Marvel at the 18th century emerald corsage worn by Russian empresses, see the last emperor Nicholas II's royal regalia and gaze at gold bars in The Diamond Fund Exhibition at the Moscow Armory in the Kremlin. You need to buy an additional ticket to the Armory (costing 500 roubles – around £6.10). The collection, opened in 1967, showcases a world-famous state collection and includes 30,000 rough diamonds. Originally kept in the Diamond Room of the Winter Palace in St Petersburg, the crown jewels were moved to the Kremlin at the outbreak of the First World War. Top tip -  you will probably be asked to show your passport when buying tickets, so take it with you on a day out sightseeing.
SHOPPING: To the east of Red Square is the elegant 19-century GUM shopping mall, complete with pretty arcades and elegant walkways. A must-see, at one time it was the largest of its kind in Europe and was famous during the Soviet era for having very little to sell. Today it houses many top European brands, including an impressive 'Nespresso' café. However, for a more 'local' experience, head up to the top of the building for a coffee with the locals, pictured above left.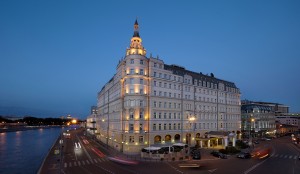 HOTELS: As mentioned, pick one near Red Square. The Baltschug Kempinski Moscow, pictured right, is hard to beat – a classical European grand hotel just across the river from the Kremlin and St Basil's Cathedral in one of the oldest parts of the city. It was in Moscow's first five-star hotel when it opened 25 years ago in a former Soviet building with a historic façade dating back to 1898. Gutted and renovated, many of the rooms come with amazing views towards The Kremlin and within easy walking distance of the main sites. For business travellers, its new meeting rooms are designed to be completely flexible and accommodate up to 600 guests. The entire second floor is a multi-functional conference centre and there is an impressive health club on the ground floor with a swimming pool and saunas. Top tip – rooms are discounted by 20% if booked more than 14 days in advance. The Hotel is on ul. Baltschug, 1, 115035 Moscow. Tel.: +7 (495) 287 2000. Prices on the website are currently around £198 a night for a double deluxe room for dates in August. www.kempinski.com
BUSINESS MEETING WITH A VIEW: The Library at the Baltschug is a small and special conference room with a view of the Kremlin even better than the view from my room, pictured below.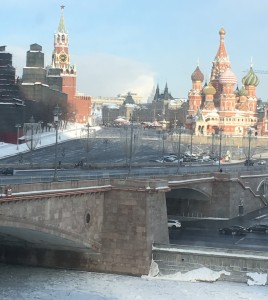 LITERARY LOVERS: American author Amor Towles' best-selling historical novel A Gentleman in Moscow is set in the heart of the city. If you're a fan, visit the key setting of the book, The Hotel Metropol in Theatre Square, and have lunch in its Savva Restaurant. The waiter here told me that it's a top venue for UK visitors. www.savvarest.ru
TAKE A RED BUS TOUR: For a quick introduction to the city, jump on board one of the 'hop-on, hop-off' red bus tours that start from Red Square. There are several routes – the main one takes you on a short journey past some of the major buildings, including the former KGB headquarters.
BALLET: It's almost impossible to get tickets for the Bolshoi. You need to book up to three months in advance! https://www.bolshoi.ru/en/
SAFETY: I was in Moscow with my daughter and, I must admit, didn't spot any other 'lone' women travellers. The hotel lobby was almost exclusively filled with businessmen having informal meetings – with a few husband-and-wife couples on holiday stopping off for coffee. With this in mind, I was happy to eat in the hotel in the evenings, rather than venture out at night on my own. Top tip: Official looking 'taxis' in parts of Russia can be unlicensed and the Foreign Office warns British nationals to take care. My hotel booked a taxi pickup from the airport for me and arranged other taxis when needed.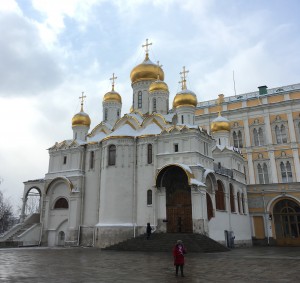 THE METRO: Communism's bold, beautiful and progressive legacy, with many stations covered in beautiful artwork. Stalin's favourite, Ploshchad Revolyutsii, boasts 76 bronze sculptures. 
EUROPE'S LARGEST STATUE: At 98-metres tall, the statue of Peter the Great divides opinion. But its location at the junction of the Moskva River and the Vodootvodny Canal has plenty of bars and is a great place for an early evening, post-work beer.
VODKA STARTER: I loved the trio of three different-flavoured vodka shots with salmon and cavier, pictured below left, in the Baltschug Kempinski's restaurant. The hotel's signature dish of vareniki (dumplings) with suluguni (cheese), morels, leeks and Champagne sauce was delicious, but I also really enjoyed the lavish buffet breakfast, with more than 100 dishes were offer, from fresh croissants to traditional Russian pancakes with red caviar and sour cream, fish from Lake Baikal in Siberia and freshly squeezed juices.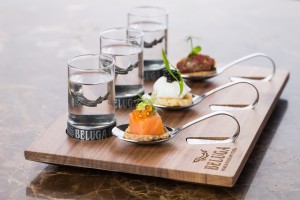 TAKE TO THE SKY: For something different try the new 5D cinema experience in Park Zaryadiye, just a few minutes' walk from Red Square, which takes you on an interactive 'Flight over Moscow' without leaving your seat. The 15-minute experience runs every 30 minutes. 
FLIGHT: Flight time with Aeroflot from London Heathrow to Moscow is four hours and 15 minutes. I was pleasantly surprised by the business class service on board – from the stewardess who offered to hang my coat up in a wardrobe as I walked on board, to the glass of fizz on take-off and my seat, pictured below. The French wines served with dinner were also impressive. Another plus is access to the business lounge at Heathrow. As I flew on a Sunday it was empty and manned by staff eager to help. www.aeroflot.com.
MONEY TIPS: You get good rates changing money in Moscow or even at the airport. BUT be careful not to run up a big bill using your phone with mobile roaming. Data roaming charges cost from £4 a day with EE.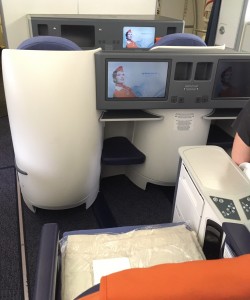 VISA HELP: Use an agency to negotiate the complicated Russian visa system. Having tried to get a visa online, I was glad of the help. The online service has several tricky questions, particularly if you are self-employed or have ever been divorced! The Russian National Tourist office in London offers a bespoke visa service – it's based near Notting Hill Gate tube station. But be prepared and do your research before applying. One question involves listing all the countries (plus dates!) that you have visited in the past 10 years. Visas don't come cheap and range from an ordinary one-off tourist one to business visas that allow several visits. Living outside London means the agency has to post your passport back by special delivery at an additional £8. Russian National Tourist Office, 202 Kensington Church Street, London W8 4DP. Tel: 0207 985 1234 www.visitrussia.org.ukwww.russianservicecentre.co.uk
FOREIGN OFFICE ADVICE: The Foreign and Commonwealth Office advises travellers to look out for pickpockets and to use hotel safes. Check out the latest advice at https://www.gov.uk/foreign-travel-advice/russia
Anne Gorringe was a guest of the Hotel Baltschug Kempinski Moscow and Aeroflot. Next week she takes the overnight business flight from Moscow to Bangkok to explore Thailand.