With plenty of direct flights from Bristol Airport, the City of Light is a popular destination for business travelers. It couldn't be easier to combine a business trip with an overnight stay and a little sight-seeing. Bristol Business News travel editor Anne Gorringe checked out some of the latest attractions this beautiful city has to offer – from making your own wine to visiting its last working factory.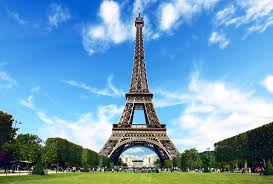 PARIS UPDATE: Last autumn's terrorist attacks hit tourism, but thanks to a series of new openings and some ambitious plans, Paris is without doubt back in business. The city is the focal point of the Euro 2016 football tournament and is hosting several matches, including the final on July 10. Its music scene will be lively this summer too as big names from Adele to Paul McCartney perform. New hotel, gallery and restaurant openings are also making it an even more exciting destination – so it's well worth adding on an extra day to any business trips to check out these new attractions.
GETTING THERE: Daily, direct flights from Bristol Airport with bmiregional and easyJet make the going easy from the West. But for anyone who needs to be in London for meetings before or afterwards, travelling on Eurostar from St Pancras is a great option. One benefit is that there are no luggage restrictions – meaning you can stock up on presents in Paris. Your case goes into the carriage with you and there's no queuing in baggage return. There are up to 21 daily services from London St Pancras International to Paris Gare Du Nord and the fastest journey time is 2 hours 15 minutes. One-way fares start at £29 but Standard Premier offers spacious, quiet carriages with bigger seats and a light meal from £97.50 one way. Tel: 03448 224 777 for tickets or see www.eurostar.com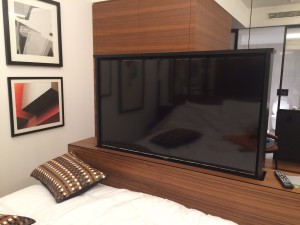 WHERE TO STAY: Check out the new Renaissance Paris Republique hotel for a taste of luxury. It opened in April at 40 rue René Boulanger, Paris 10, and promises an authentic Parisian experience. It also has a spa and penthouse rooms. It's fairly close to the Gare Du Nord, making it convenient for both Eurostar trains and Metro connections to Charles de Gaulle Airport. It's also in the middle of three iconic Parisian areas – Le Marais, Le Canal Saint Martin and Les Grands Boulevards. A good tip is to order breakfast to eat in your room. It takes about 40 minutes to arrive – so, plenty of time to jump in the shower and prepare for the day's meetings (or watch the 'hidden' TV, pictured). Check out the website for special offers. http://www.marriott.com/hotels/
OR BOOK A BREAKFAST MEETING: One of Paris's great new restaurants is Champeaux by Alain Ducasse. It's among several to have opened in Les Halles – the central shopping mall being renovated under a huge, curved canopy. By next year the grounds around it will be transformed into stunning gardens to sit and relax. Champeaux offers fabulous food from 8am until midnight – so, perfect for a breakfast meeting. Or, try the dish of the day at lunchtime for around £20. http://www.alain-ducasse.com/en/restaurant/champeaux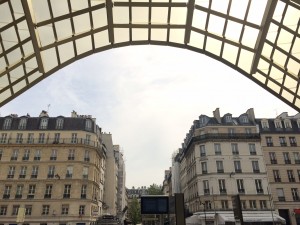 THEN HAVE SOME RETAIL THERAPY: There's been a market at Les Halles since the 12th century but today the fruit and veg, cloth makers and corn vendors have been replaced by a new complex, pictured right, on several levels housing 130 household names, both national and international. Ideal for buying a few gifts for loved ones. Forum Les Halles
GET A TASTE FOR GREAT FRENCH WINE: Les Caves du Louvre is a new and fun wine tasting experience set in 'caves' near The Louvre. Visitors download an app which guides them around the old cellars, once used to ripen green bananas. There's a 'smell test' where you guess the 'flavours' in particular bottles of wine. Decide on the grapes you like and you can even make your very own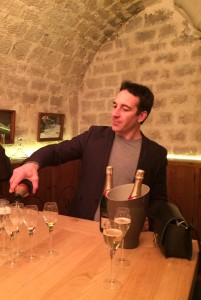 wine – with the label designed by you. Book in advance if you'd like to be shown around by the sommelier, pictured left. Les Caves opened for wine tasting just before last autumn's attacks so initial visitor numbers were less than predicted. However, they've bounced back. 52 rue de l'Arbre. Tel: +33 (0) 9 86 17 28 91 http://www.cavesdulouvre.com/
DISCOVER SOME SECRET ART: The fantastic and imposing French Mint – the Monnaie de Paris – is a short stroll across the Pont Neuf bridge from The Louvre. Opened in 1775, it's now the only working factory left in central Paris and coins and medals are still designed and created here. But it has a secret even many locals don't know about – you can go inside and stroll around its modern art exhibition. It's worth entering just to admire the beautiful ceiling, pictured below. There are exciting plans to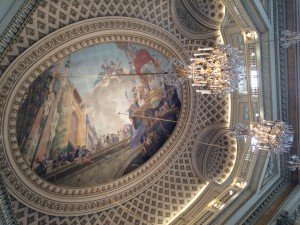 rejuvenate the surrounding buildings and by 2017 the area will boast landscaped gardens, luxury shops, two Guy Savoy restaurants, a new museum of metal and crafts and a resident artist. https://www.monnaiedeparis.fr/
ENJOY A MICHELIN-STARRED LUNCH: The Michelin-starred restaurant Les Tables de la Fontaine is a delightful, small restaurant in the nearby 7th arrondissement on the Left Bank. The female chef is the youngest in France to have been awarded a star. 131 rue Saint Dominique. Tel: +33 (0) 1 44 18 37 55 http://lesfablesdelafontaine.net
TAKE IN SOME CULTURE: The amazing new Foundation Louis Vuitton cultural centre, pictured below. Designed by Frank Gehry – the architect behind the famous Guggenheim Museum in Bilbao – it looks like a ship in full sail and is a work of art in itself. It's on the outskirts of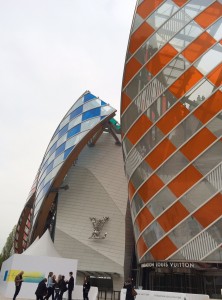 the city in the Bois de Boulogne so is a bit of a trek – but it's worth it. It's open until 8pm so you can spend an interesting evening there after a day of meetings – book your tickets in advance online. The gardens and water features are stunning while inside at the moment there's an exhibition by Chinese artists including Ai Weiwei. Catch the free shuttle bus from Place Charles de Gaulle to the gallery at 8 avenue Mahatma Gandhi, Paris 16. Tel: +33 (0) 1 40 69 96 00 http://www.fondationlouisvuitton.fr/
GO BOHEMIAN: After all that culture, relax with a glass of wine and people-watch back on the Left Bank. The wonderfully-named Les Deux Magots was the famous stopping-off point in St Germain for literary figures from Ernest Hemmingway to Jean Paul Sartre. The drinks don't come cheap here but you can sit and sip your wine and take in the cafe culture for as long as you like.
TREAT YOUR COLLEAGUES TO DINNER: Feast on great seafood at Huguette. This new 'Bistro de la Mer' is a lively spot which opened in March on the Left Bank to great success. Specialising in all combinations of seafood and chips, it's got a laid-back relaxed feel with old wooden tables, metal chairs and waiters kept busy by a buzzing crowd. It also has a terrace which fills up quickly. 81, rue de Seine, Paris 6. Book by phone +33 (0) 1 43 25 00 28 or at http://www.huguette-bistro.com/
ENJOY SOME MUSIC: The AccorHotels Arena (formerly Bercy Arena) reopened last October and is now one of the five largest arenas in the world. It's already attracted big names, including Mariah Carey who played there in April, while Bruce Springsteen performs there in August. It's also home to many major sporting events including the Paris Masters ATP Tour tennis tournament as well as basketball, boxing, gymnastics, track cycling and show jumping among others. It's in the south east of the city in the 12th arrondissement. http://www.eventtravel.com/accorhotels-arena-paris
NEED MORE INFO?: Go to www.parisinfo.com or http://www.parisweloveyou.fr/