Business links between the West and the German city of Hamburg are taking off following the launch of direct flights from Bristol Airport. So what can the business traveller do between meetings or to fill a few hours before flying home? Bristol Business News travel editor ANNE GORRINGE went to find out . . .
CITY FACTS: Situated on the River Elbe, Hamburg is 110km from the North Sea yet is, amazingly, Europe's second-busiest port behind Rotterdam. It's got a booming tourist industry, partly due to of its success as a cruise ship destination.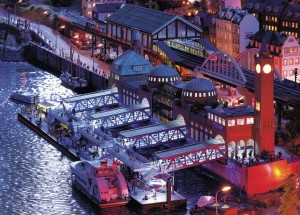 Population 1.8m. Main industries: Aerospace, engineering, media. Imperial Tobacco and Airbus have bases.
Right: A sight-seeing boat trip around the port is a different way to see the city. Boats leave hourly during the day from 11am from Landungsbrucken
GETTING THERE: bmi regional flies twice daily from Bristol with ticket prices from £49.99 each way. www.bmiregional.com
GETTING FROM THE AIRPORT: The S-Bahn metro from the airport is fast and cheap. It runs every 10 minutes, takes 25 minutes to the Central Station and costs €2.95 (£2.50) one way.
WHERE TO STAY: At the luxury end, on the shoreline of Lake Alster, Hotel Atlantic is one of Hamburg's finest hotels www.kempinski.com/en/hamburg/hotel-atlantic/welcome/. Best Western St Raphael is a good, affordable business hotel five minutes' walk from the Central Station, with free 24-hour internet access, an extensive breakfast and fabulous Illy coffee in the bar. It's three metro stops (or a 15-minute walk) to the shopping district. www.bestwestern.de/hotels/Hamburg/BEST-WESTERN-PLUS-Hotel-St-Raphael
SHOPPING: Spitalerstrasse, between the Central Station and the impressive town hall, is a pedestrianised street that has everything from H&M to haute couture, while hi-tech fans will love the massive electronics shop on nearby Moenckebergstrasse.
CULTURE: The Bucerius Kunst Forum gallery next to the town hall is perfect for that spare half an hour. www.buceriuskunstforum.de/en
Below: Hamburg's impressive town hall. In the basement is a wonderful 'brown' cafe with candles on the tables. A great place for a coffee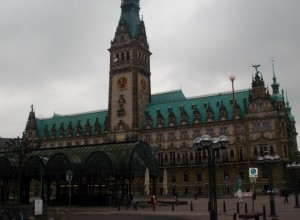 LUNCH BREAK: Have a great bowl of pasta with chilli sauce for around €9 in the Schones Leben, a lovely lunch spot around the corner from Hamburg's number one tourist attraction, the miniature wonderland in the HafenCity area.
POST-MEETING DRINK: Next to the city centre, Café Paris is business-orientated during the day, relaxed in the evening www.cafeparis.net Or, for somewhere more trendy and upmarket, try Ciu´ www.ciudiebar.de while Le Lion is a very stylish cocktail bar: www.lelion.net
TOURIST ATTRACTION: Miniature Wonderland http://www.miniatur-wunderland.com/press/ in HafenCity. For anyone who loves model railways, it's the biggest in the world and a must-see. It has been created by two brothers who made their money from a disco and then turned their passion for model railways into a spectacularly successful business.
DON'T MISS: For great value food at a cafe with a fantastic view, grab a coffee and cake or go for a Thai meal (€8.95) at the cafe/restaurant on the top floor of the Alsterhaus department store round the corner from the town hall. It's like a small version of Harrods. A glass of sparkling wine costs just €3.5.
DON'T BOTHER WITH: The Reeperbahn, the famous red light district, if you are there during the week, unless you are a massive Beatles fan. It is just one of the streets in the St Pauli district which has seen something of a boom in cafes and theatres in recent years. However, at the weekend it is buzzing.
Left: The Star Club, where the Beatles played in 1962, has since burned down. A plaque on an alley wall marks the spot
TOP TIP: A daily tube ticket, the Hamburg Card+ costs less than €9 for unlimited travel, including on the Lake Alster ferry in summer. Otherwise, just relax, enjoy the cafe culture and try a cake – they're incredible.
NEED MORE INFO?: For hotel bookings and more tourist information in English: www.hamburg-tourism.de
NEXT TIME: 24:00 hours in New York. Bristol Business News editor Robert Buckland looks at what the Big Apple has to offer business travellers.