Concert venue Bristol Beacon has formed a partnership with city-based TV production company Plimsoll Productions to highlight its work and help it reach a wider audience.
The two, which are among Bristol's largest creative organisations, said the collaboration would reflect their shared values around sustainability, diversity and creativity.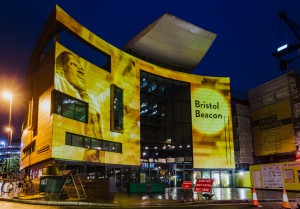 Plimsoll, the world's biggest independent natural history programme maker, will produce two special videos to raise awareness of the breadth of work done by Bristol Beacon, whose creative learning programme reaches more than 30,000 young people in the city every year.
The venue itself has attracted some of the world's greatest musicians with around 300,000 people a year watching performances.
The 150-plus year old venue, which was rebranded from its original name of Colston Hall in 2020, is due to reopen next year after completion of its once-in-a-generation transformation.
The work will make it one of the most sustainable and accessible concert halls in the UK.
Bristol Beacon chief executive Louise Mitchell said: "As we get ever closer to reopening our building, now is the time we are seeking to build a community of like-minded organisations who believe in the transformative impact of creativity for the city, its businesses and residents. 

"We have found that in Plimsoll Productions. Together we can make space for music for everyone in the city.
"We believe music can transform the lives of our city's most invisible and isolated groups including children in care and with disabilities, dementia patients in care homes and those suffering profound economic and social barriers."
Plimsoll, which was launched in based in Bristol in 2013, employs around 400 people in the city and its offices in Los Angeles and Cardiff.
Its BAFTA, Academy and Emmy Award-winning team specialises in wildlife, documentary, live and factual entertainment shows, including Hostile Planet with Bear Grylls (National Geographic), Rescue Dog to Super Dog (Channel 4), Britain's Parking Hell (Channel 5) and Life at the Extreme (ITV).
Plimsoll director Christine Owen said: "As an organisation that values excellence and kindness and promotes creativity, inclusivity and diversity, a partnership with Bristol Beacon makes a lot of sense.
"We look forward to enjoying world-class entertainment by experiencing the Beacon's performance programme, as well as the opportunity to use our skills as one of the largest independent TV production companies in the UK to highlight the role that this important charity plays in our city."
Bristol Beacon photo, top, by Dominika Scheibinger 
Pictured below, from left: Plimsoll Productions head of sustainability Alison Bennett, Bristol Beacon chief executive Louise Mitchell and Plimsoll Productions director Christine Owen