Iconic British fashion brand Lyle & Scott, known for its golden eagle logo, has turned to a Bristol TV advertising agency to produce the first television commercial in its 147-year history

The advert, which started airing in the UK and the Netherlands this week, was created by Happy Hour Productions and filmed at its Feeder Studios – with a wealth of Bristol creative talent taking part in the shoot.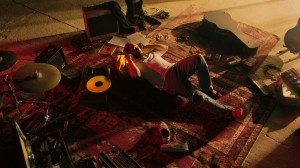 The London-based clothing brand was historically been known for its golfing knitwear, originally produced in Scotland.
But the advert, with the strapline Dare To Be You, depicts Lyle & Scott as modern and with a diverse consumer base in the UK and beyond.

Happy Hour was responsible for the advert's concept, script and aesthetic as well as the technical production.
It described it blending "striking visual imagery and an energising soundtrack to pose a simple, yet fundamental question 'Who Decides?'"

Lyle & Scott said it reflected its ethos and positioning as a premium brand with broad appeal to all genders, ethnicities, ages and backgrounds, and its philosophy that consumers should "have the confidence to wear Lyle & Scott how they want to wear it".

Happy Hour, which is based in The Picture House on Lower Park Row, has more than 15 years' experience producing TV commercials and video for brands across all industries. Clients include Nationwide, Sun Life and the Department for Work and Pensions.

Winning the Lyle & Scott work was particularly satisfying as fashion brands rarely use agencies based outside London.
Happy Hour CEO Tom George said: "Lyle & Scott came to us with a brief to tell the story of what their brand stands for today: quality and inclusivity.

"Lyle & Scott celebrate standing out from the crowd, being extraordinary, being different, being authentic, being you.

"We took those values and wove them into a creative concept that mixes motion, light, music and hard-hitting narration to deliver an impactful message about the brand.

"The resulting advert is an homage to Lyle & Scott's customers and their individual sense of style and identity.

"Everyone at Lyle & Scott and Happy Hour worked incredibly hard to deliver a campaign that will drive awareness and create differentiation for the brand. We couldn't be happier with the result."

Lyle & Scott brand director Ben Gunn added: "With almost 150 years of heritage, it is fair to say that Lyle & Scott has built a diverse and increasingly global customer base, something that we are extremely proud of.

"The brands iconic and stand out moments in fashion, subculture music and sports mean that the Golden Eagle evokes a strong but often different memory depending on who you ask.

"We celebrate this, those differences and moments are what makes the brand interesting, we have never wanted to pigeon-hole ourselves or box ourselves in.

"The Dare To Be You campaign is the embodiment of what Lyle & Scott represents and as a modern, progressive brand we strive to create campaigns that challenge perceptions and have positive impacts on communities."