European aerospace giant Airbus could find itself in second place again behind US rival Boeing for aircraft deliveries and orders in 2013 when it releases its annual figures on Monday.
Earlier this week Boeing revealed record deliveries and orders for last year, putting it on track to claim the crown for both for a second year running.
The US giant delivered 648 commercial planes last year and had a backlog of 5,080 unfulfilled orders.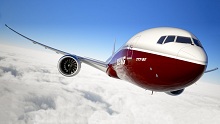 Airbus is expecting to have made 620 deliveries last year.
Boeing Commercial president and chief executive Ray Conner said all three of its US-based commercial plane factories had delivered a record number of planes.
"The Boeing team performed extremely well in 2013," he added.
Overall, Boeing won gross orders of 1,531 last year.
Airbus's success is vital to the West's aerospace sector and its cluster of firms in the supply chain – the second-largest in Europe
Airbus itself employs around 4,000 people at its plant at Filton, which designs wings, fuel systems and landing gear for its commercial aircraft and assembles wings for its A400M military transporter plane.
Major firms supplying Airbus include GKN, which has major aerospace interests at Filton where it makes metal wing sections and at Severnside, which produces state-of-the-art composite wing parts.
Airbus claimed victory over rival Boeing at the Paris Air Show last summer with a clutch of last-minute orders. The show is traditionally a platform for the two industry giants to stage signing ceremonies with major customers.
Airbus clinched orders and commitments for 466 aircraft worth $69bn (£44.54bn) at list prices at the week-long show – the world's largest aerospace industry gathering and shop window for new aircraft.
US arch-rival Boeing said it had won firm and provisional orders for 442 aircraft valued at more than $66bn.
But Boeing continued to win orders during the second half of 2013. It said three of its plane-making programmes had set individual records for delivery: its delivered 440 of its next generation 737, its 98 of its long-haul 777 and 65 of its 787 Dreamliners.