By Colin Skellett, Chair, West of England LEP
Since the Government announcement a couple of weeks ago of the local growth deals awarded to England's 39 Local Enterprise Partnerships (LEPs), there have been a lot of big numbers bandied about.
Unless you're close to the deals, the figures and the fuss may seem a little hard to fathom. In the West of England, we've been awarded £213m over six years, including £86.2m of new money.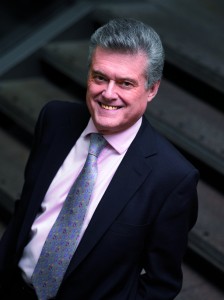 But what does it really mean for our region?
Firstly, a quick recap of the process. Back in 2012, Lord Heseltine conducted a review, which said that for local growth, those places demonstrating credible economic leadership should have resources and power devolved to them. The Government's response was to create Growth Deals with every LEP, building on the success of City Deals.
In early 2013, LEPs were challenged to create a Strategic Economic Plan (SEP) to create long-term economic growth in their region. These SEPs would then compete for a share of the newly created £2bn-a-year Local Growth Fund.
In the West of England, we spent more than six months creating and then fine-tuning our plan. It involved immense collaboration between the four local councils, colleges and universities and local business, as well as some tough decision-making to decide on our priorities for the next six years.
Government said we should be bold and ambitious – and so we were. Our plan asked for a significant amount of cash – £90m a year. We never expected to get all of our asks, but this was a negotiation, so you have to start at the top.
What we've ended up with is a very respectable first tranche of money. £86.2m of NEW money is the key figure here, because it is actually new money coming to the region. Add it to that already committed sum of £126m for our MetroBus and MetroWest transport schemes, plus the £185m investment from private sector and local delivery partners to match the funding, and our region should see an overall investment package of £400m.
This money will allow us initially to get around seven of our prioritised projects – including some very exciting innovations around broadband and robotics, business support for SMEs, transport and skills projects – off the ground. If you haven't seen the details, it's worth a look here.
Various economic commentators who have analysed the 39 deals tell us that ours represents the most money per head for any region in the country, which you could reasonably say means the Government is at last starting to recognise the importance of the West of England as a contributor to the UK's current and future economic success.
However, our plan identified many more projects across the West of England, that we want to deliver, including Bath Innovation Quays, Engine Shed Phase 2 in Bristol, a Food & Drink Enterprise Centre in North Somerset and a package of minor transport schemes. The job now is to work with Government to make sure we see even more money coming this way from the second round of the Local Growth Fund for 2016 and beyond, as well as seeking more freedoms and flexibilities that will allow us to decide how we choose to spend it.
Why is this Growth Deal such a big deal, you could reasonably ask? Sceptics would argue that the Government is often announcing large sums of money to deliver various projects.
The answer in fact lies not in the sums of money announced, but in the process itself. This has been the first time LEPs have been tasked with an assignment like this and it is a game-changer for the way we work with Government. It is Whitehall taking the first step in loosening the reins on their power over places. Calls have been going on for devolution of powers and resources for a long time and this is the beginning of that shift in power. Cities and regions are clear that it doesn't go anyway near far enough yet, but at last we're out of the starting blocks.