The Chancellor's Autumn Statement did not go quite far enough to unlock the resources needed to maintain and improve the West's business infrastructure, according to Business West, the business support organisation that runs Bristol Chamber of Commerce and provides export and high-growth services.
There was still much more that needed to be done, said managing director Phil Smith.
However, he did highlight some positives, adding that the speech was "a good indicator of Government intentions and what level of support they will provide to get the economy back on track".
"With lower than expected levels of growth in the economy and the further revision of growth forecasts downwards for future years, businesses really needed to hear all the right things.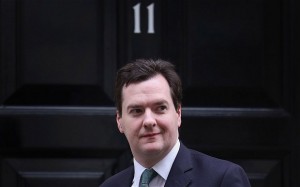 "The positive messages about the creation of the British Business Bank are very welcome but without a clear framework and timetable for implementation businesses are still without the support they need and their ability to grow is constrained. Ministers need to recognise the need for urgency when it comes to financing business growth and must stop stalling.
"The support outlined for some of the recommendations from the Heseltine Review are to be welcomed and it is pleasing to see the focus on devolving funding and the importance attached to the role of LEPs and business groups. We look forward to seeing how this will work in practice.
"There was also some festive cheer for businesses with the planned increase in fuel duty now cancelled, more funding for British exporters and new investment in infrastructure proposed, but proposals on house building didn't go far enough to address the current deficit of new homes.
"We were particularly disappointed that there was once more no mention of business rates, when many businesses, particularly retail, have been arguing for a freeze in Business Rates to provide immediate relief, with a further proposal to move to a fairer system for future increases now looking like a lost cause. We feel this is a missed opportunity to provide the boost that business needs to help create private sector jobs and grow the economy as quickly as possible.
"Businesses in the West Country have been looking for ways to grow, export to new markets, and take on more staff in the face of weak growth and continued problems in the eurozone. However they need the right support from Government to do this."
Responding to the Chancellor's pledge to put billions into infrastructure projects, Andrew Batchelor, partner in the Bristol office of property consultants Hartnell Taylor Cook, said: "On the face of it this is an excellent idea and would be an incredible boost for Bristol and the South West.
"We already have major infrastructure projects happening, including £20m allocated for Temple Meads in addition to millions set aside for places like Weston-super-Mare and Bath Western Riverside. But much more is needed as long as it is done in the right place.
"Once you get infrastructure in place, be it something like superfast broadband or a physical thing like roads, you can then get on and build things around it which creates jobs and opportunities for economic development.
"A word of caution though: we have heard announcements like these in the past from successive governments which, when scrutinised, don't actually have that much substance. So it is now imperative for our local politicians to lobby Whitehall and make sure Bristol and the wider region gets its fair share of this money."
He said to do this the various public bodies, such as Bristol City Council, North Somerset and South Gloucestershire, needed to agree a joint strategy to approach Government and put forward their case for receiving this vital cash injection to put in place much-needed infrastructure projects.
"Bristol's new Mayor, George Ferguson, and the Local Enterprise Partnership are already working hard for the wider economic region and this is definitely the way forward," he said.
Bonnie Dean, chief executive of the Bristol & Bath Science Park described the extra £600m investment in science and research infrastructure as encouraging news for one of the UK's leading sectors.
"We await the detail of how it is to be allocated with great interest," she said. "I hope to see investment in new facilities and centres that allow small and large companies to come together to work collaboratively to accelerate bringing both industry and academic research to market. Operating in closed silos is no longer an option in a world of high-speed technological development. This funding could help de-risk the process of businesses engaging with each other to share research and intelligence to address gaps in industry capabilities.
"The UK already has impressive levels of investment in science and research. Ensuring industry can turn that investment into commercial opportunities and viable products is key to the future of the UK economy."
Jon Blake, regional director of ICAEW (Institute of Chartered Accountants of England and Wales), broadly welcomed the Autumn Statement.
He said: "The Chancellor has gone for growth and wants to show that the UK is open for business. The reduction in corporation tax will be welcome news for larger companies and will encourage inward investment. The increase in the Annual Investment Allowance (AIA), which ICAEW called for, will be good news for smaller businesses. The Chancellor will hope that the new measures will impress the 67% of ICAEW business members who are not confident that the Government's Plan A for the economy will deliver growth this Parliament.
Problem areas remained, he said. "There are still a number of juggernaut policies devised in Treasury by people who do not understand the realities of running businesses. Policies such as the new PAYE reporting system will create additional burdens on business at a time when they should be focusing on growth. Until these policies are made more flexible, deficit reduction will continue to be slow and growth will take longer."
There was a welcome for the Chancellor's decision to introduce exemption from empty property rates for new commercial developments from Russell Crofts, who heads up the industrial agency at property agents Knight Frank in Bristol.
He said: "This means that new developments will be exempt from rates for 18 months.
"This initiative is to be commended for removing a key item of cost and risk from the decision-making process for new developments. It could bring to life a number of schemes across the South West that have been stuck on the drawing board in recent years.
"In an ideal world the Chancellor would have gone a step further and also reinstated the 50% relief for vacant properties, but we should still be pleased to see this green light for new developments."
Mike Lea, head of corporate tax and managing partner of the Bristol office of Smith & Williamson detected a shift by the Chancellor in the way he used today's Autumn Statement – even an echo of former Chancellor Gordon Brown.
"Under the Tax Policy Framework, the main tax event of the year should be the March Budget," he said. "When the Coalition Government came to power we were told that the concept of a Pre-Budget Report was no longer in favour.
"However the 2012 Autumn Statement did seem remarkably similar to a Pre-Budget report as we came to know it in Gordon Brown's era, complete with a rabbit coming out of the Chancellor's hat, this time in the form of scrapping the proposed fuel duty increase."
While welcoming the crackdown on tax avoidance by HMRC and the pledge to increase its headcount, Mr Lea added: "Many of HMRC's more experienced staff have taken early retirement or redundancy in recent years. Had HMRC been a little more forward thinking and not reduced staffing levels a short while ago, they would almost certainly be in a better position than they are now.
"Also, paying long-serving and experienced staff to leave via redundancy packages, only to have to re-recruit a few years later and train the new appointees, is clearly a costly and inefficient route."