'Santa Special' flights to Lapland are being re-introduced from Bristol Airport this December after a gap of five years as their operator expresses confidence in the economic recovery.
The launch of the three and four-day packages by Esprit's Santa's Lapland brand, part of the Inghams and Ski Total stable – the UK's largest specialist independent tour operator – coincides with budget airline easyJet's announcement that is to start direct flights from Bristol to Reykjavik and Marrakech, also in December.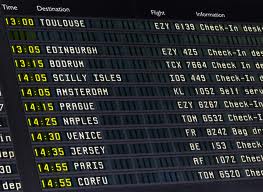 EasyJet, whose route network from Bristol is the largest from any UK airport outside London, expects to carry 55,000 passengers in the first year on the two new routes.
The Santa's Lapland packages – a collaboration with easyJet, which flies the charter services to Ivalo in Finland – are to take off from Bristol for the first time since the economic downturn in 2008. Santa's Lapland has continued to operate the mini-breaks from Gatwick and Manchester.
Programme director Ian Hope said: "When the downturn happened in September 2008, all operators cut their capacity to Lapland. For a couple of years now, we have seen the demand growing and have responded accordingly.
"To meet demand this Christmas, we have introduced direct flights to Santa's home from Bristol as we already have both the South and the North covered. With signs that the economy is recovering, we hope these new flights will be a roaring success."
Included in the package are snow-suit hire, husky sled and reindeer sleigh rides and a trip on a snowmobile to find Santa's log cabin, where children get a present from Father Christmas. There is also an Igloo Fantasia, snow games and ice fishing.
Santa's Lapland has introduced a number of special opening offers for the packages, making them cheaper than those from Gatwick, including a 'double cash-back' offer of £100 per adult and free parking at Bristol Airport. There are also limited half-price Northern Lights excursions.
Prices for the three or four-day trips are from £599 per adult – with some free child places available – inclusive of return Bristol flights, transfers, and bed and breakfast hotel accommodation.
A three-day trip for a family of three, with a child under five, flying out on December 3, costs £1,225 from Bristol on a B&B basis – around £190 cheaper than the same holiday from Gatwick.
Tickets for easyJet's new Reykjavik Marrakech services are on sale now. Flights to Marrakech will start on December 14 and will operate on Tuesdays and Saturdays with fares from £33.99. The Reykjavik service starts on December 12 and will operate on Thursdays and Sundays with fares from £31.99.
EasyJet commercial manager Ali Gayward said: "Reykjavik is fast becoming one of the most popular destinations for UK holidaymakers who are attracted to the fantastic scenery and natural beauty as well as the thriving bar and restaurant scene. Marrakech boasts luxury hotels, rich history and culture and excellent shopping opportunities with a flight time of just over four hours."
Bristol Airport chief executive officer Robert Sinclair added: "Today's announcement adds two more exciting destinations to easyJet's extensive route network from Bristol. It also brings two new countries within easy reach from Bristol Airport, taking the total number of nations served by direct flights to 32."
EasyJet is the largest airline operating from Bristol Airport with up to 11 aircraft permanently based at the site, 420 staff employed locally and 46 destinations served. The airline flies more than 3m passengers to and from the airport annually. The airline will use 156-seater Airbus A319 on the two new routes.