Construction work has started on the first solar farm at Bristol Airport in a move that could help it achieve its ambitious target of becoming net zero by 2030.
Roughly the size of one-and-a-half football pitches, the 2.8-acre scheme of ground-mounted solar panels is expected to be completed and in operation by this summer.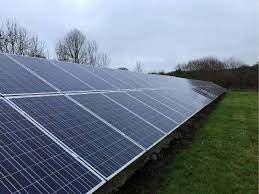 All power generated by the scheme will be used onsite.
Combined with the existing roof-mounted panels on the airport's administration building and its car rental consolidation site, the scheme is expected to increase the renewable energy generated onsite to at least 16% of the airport's annual direct energy needs.
The airport said the panels were essential for it to meet its target of having 25% of its energy use generated by its own renewable sources by the end of 2025.
The development will also be a major component in helping the airport meet its ambition to be net zero for its Scope 1 and 2 emissions by 2030 – which would make it the first in the UK.
Scope 1 covers direct emissions from owned or controlled sources while scope 2 covers indirect emissions from the generation of electricity, steam, heating and cooling bought and used by the business.
The airport is working with Surrey-based 3ti, the UK's leading designer, installer, funder and operator of solar car parks, on the new solar scheme.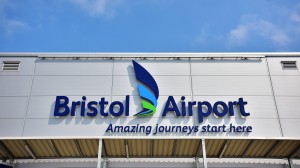 3ti delivery director Richard Lees said: "We are delighted to be designing, installing and delivering this solar ground-mount project for Bristol Airport and look forward to supporting their sustainable initiatives.
"This important project highlights the commitment of Bristol Airport in pursuing renewable energy sources.
Bristol Airport head of sustainability Hannah Pollard said: "This is a huge first step in exploring renewable energy that will be consumed on site. This project highlights our commitment to making continual improvements now and in the future."
The airport has been involved in a number of trials and research projects over the past few years aimed at making it more sustainable.
These have ranged from using electric buses to transfer passengers to their planes to planting carbon-absorbing flowers and grass.
Last year an environmental initiative between the airport and easyJet – believed to be the first of its kind to slash emissions from equipment used to get passengers and baggage onto aircraft – won a ACI EUROPE Best Airport Award for Eco-Innovation.
It is also a member of Hydrogen South West, the partnership of leading businesses and innovators aiming to develop the UK's leading zero-emission hydrogen infrastructure in the region.
The airport, which has made the fastest recovery from the pandemic of any in the UK, expects to handle around 9.9m passengers this year – nudging its current capacity of 10m for the first time since 2019.
That capacity is set rise to 12m following the High Court's decision to dismiss a legal challenge from environmental protestors against its expansion.