Vistair, the fast-growing Bristol-based airline safety software specialist, has landed a £9m investment to meet its international growth ambitions.
The firm, which earlier this year won the Queen's Award for Enterprise in recognition of its burgeoning international sales, secured the investment from Synova Capital, the UK growth equity firm.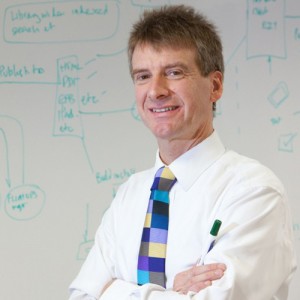 Vistair, based at Bradley Stoke and with operations in Glasgow, Manchester, London and Dubai, has developed cutting-edge, cloud-hosted products for global airlines including British Airways, Delta, easyJet, Air Asia and Emirates.
Its products – which can be used on tablets – provide digital information and data for pilots and crews, from flight operations manuals to safety reporting and quality measurement.
They replace the multiple copies of paper-based manuals that airlines are required to carry on their flight decks.
The firm was formed by CEO Ian Herbert, pictured, in the early 1990s, emerging from an interactive media software company he had launched in Bristol.
He saw a gap in the market for online technical manuals and document handling and recruited IT and airline professionals to build a range of technology-based, cost-saving products.
Synova partner Alex Bowden, who has joined Vistair's board, said: "Vistair has developed an exceptional suite of software solutions for the airline industry, which significantly improve efficiency and compliance for our customers.
"We are delighted to be partnering with Ian and his highly skilled team as the business strives to deliver an accelerated international growth plan buoyed by increased demand within the aviation industry for technology-led products."
Ian Herbert added: "Having built a relationship over the past few years I am delighted to finally be partnering with Synova as our business embarks on the next chapter of our international growth story.
"Synova's experience of supporting and enabling some of Britain's fastest-growing businesses to replicate their local success in international markets makes them the ideal partner for me and my team."
Synova invests in UK growth opportunities with a particular focus on companies valued at between £10m and £50m in sectors spanning business services, financial services, technology, consumer and healthcare and education.
Legal advice was provided by international law firm Osborne Clarke, which has a major office in Bristol, and Bristol firm Meade King. Corporate finance advice came from accountants PwC and Quayle Munro while KPMG provided financial due diligence, Armstrong provided commercial due diligence and Intuitus provided IT due diligence to Synova. Accountancy firm Deloitte provided tax structuring advice.